Antonio Conte: Tottenham boss says he is 'ready to die' for club until end of season amid speculation over future | Football News
Antonio Conte says he is "ready to die" for Tottenham until the end of the…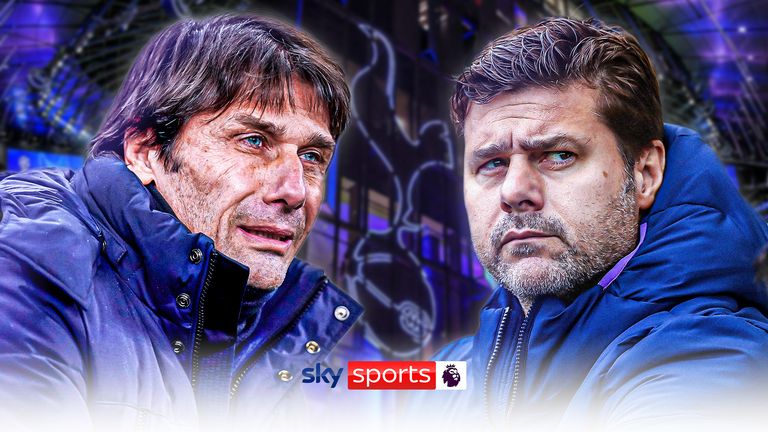 Antonio Conte says he is "ready to die" for Tottenham until the end of the season, but admitted the contract he signed at the start of his tenure was "strange".
Speculation over Conte's future has intensified following Wednesday's limp Champions League exit to AC Milan, with the Italian's current terms expiring in the summer amid a growing belief he will depart before the end of the season.
But the 53-year-old insists he will see out the remainder of the season ahead of Saturday's Premier League home match against Nottingham Forest, the first of 12 games remaining for Spurs.
Melissa Reddy says Antonio Conte is to remain in charge at Tottenham for the near future, but explains that the club understand things can change quickly in football

Asked whether he wanted to stay, he replied: "You know my opinion and my desire. I've said to you a lot of times and during the press conference that the situation I have found – we are far to aspire to be competitive and try to win.
"For a long time I've said we need time, we need patience and I see that here the environment has no patience, or maybe the environment doesn't want to understand the reality.
"If no one wants to understand this and for sure I don't speak about my future because the club knows very well which is my situation, my thoughts. We can't do miracles. If I have become to people a target then no, I'm not this person. The reality is this.
"We need time and patience. I understood that here the patience finished for the fans, for the environment and then we'll see what happens in the future."
Spurs' next five games
Saturday: Nottingham Forest (H) – PL, kick-off 3pm
Saturday March 18: Southampton (A) – PL, 3pm
Monday April 3: Everton (A) – PL, kick-off 8pm (live on Sky Sports)
Saturday April 9: Brighton (H) – PL, kick-off 3pm
Saturday April 15: Bournemouth (H) -PL, kick-off 3pm
Conte said he would not run himself into the ground but would give his all to the club for however long he continues to be in charge.
"Until the end, I am ready to die for this club but then we'll see because I'm not so stupid to continue to kill myself."
He added: "You know with the club we signed a contract, a strange contract one-year-and-a-half. Usually you sign for three years but I think it was for the club and for myself to see the situation.
The Times' Martyn Ziegler and Jonathan Liew of The Guardian discuss whether Conte's departure from Spurs is inevitable

"For the club to understand my personality, my capacity as a coach and for me – from my side it was the same. To understand if we were on the same page.
"Now after one year and a half, the club knows me, I know the club and it is clear this situation. We have to finish the season and then we will see.
"The club knows very well my thoughts. I am ready to die for this club until the end of the season."
Conte: Richarlison didn't criticise me | 'He's right, his season has been s***'
Tottenham forward Richarlison says he is unhappy with the current minutes he is getting on the pitch

Conte also referenced the explosive post-match interview given by Richarlison where the forward admitted this season had been "s***" following their Champions League exit to AC Milan.
The Spurs boss revealed the Brazilian had apologised for the incident and agreed that he has endured a poor campaign.
"First of all I watched the interview with Richarlison and he didn't criticise me. He said my season is a "s***" and he is right because his season is no good because he had a lot of injury," Conte said.
"He started well with us, he then had an injury and went to the World Cup and had another injury, he came back and stayed one month out.
"He scored zero goals with us (in the Premier League), only two goals in the Champions League and the guy was really honest to say his season was not good.
"Then you ask me for the rest of the interview? I think (the) guy understood he made a mistake because when you speak with I, I and I, not 'us'. It means you are thinking only about yourself and you are selfish.
"I repeat to my players, if we want to build something important, fight for something important, fight to be competitive and win a trophy, we have to speak with 'we'.
"If we speak I, I and I, we are only thinking about himself. The guy understood very well and apologised, which is good because I had an opportunity to clarify for another time the spirit of the team."