Army stalls, adventure sports, water sports and various food stalls at the 26th National Youth Festival have drawn the attention of visitors.
The army has set up two stalls, one to provide information on various employment opportunities for the youths in the armed forces and the other one is where a few of the arms and ammunitions used by the armed forces are on display.
At the 'Know your Army' stall set up on the campus of Karnatak College in Dharwad, a team of army personnel are providing information on all the recruitment opportunities including the newly launched 'Agniveer' scheme.
In the second stall, various arms and ammunitions including few used during the 'Kargil War' are on display. On Saturday, January 14, Havaldar Ravindra Pal Singh of Rajputana Rifles and others were seen enthusiastically explaining about various arms, their range, firing capacity and damage that they could cause to the enemy camp. They were assisted by Havaldar Sanjiv Kumar from Madras Regiment (a native of Bidar), who explained the visitors the same in Kannada.
Those on display include A.K. 47 rifle, Single Assault Rifle 7.62 mm, M.M.G. Rocket Launcher, Sniper DSR and others. Equipments and gadgets used for surveillance during night are also on display.
Adventure Sports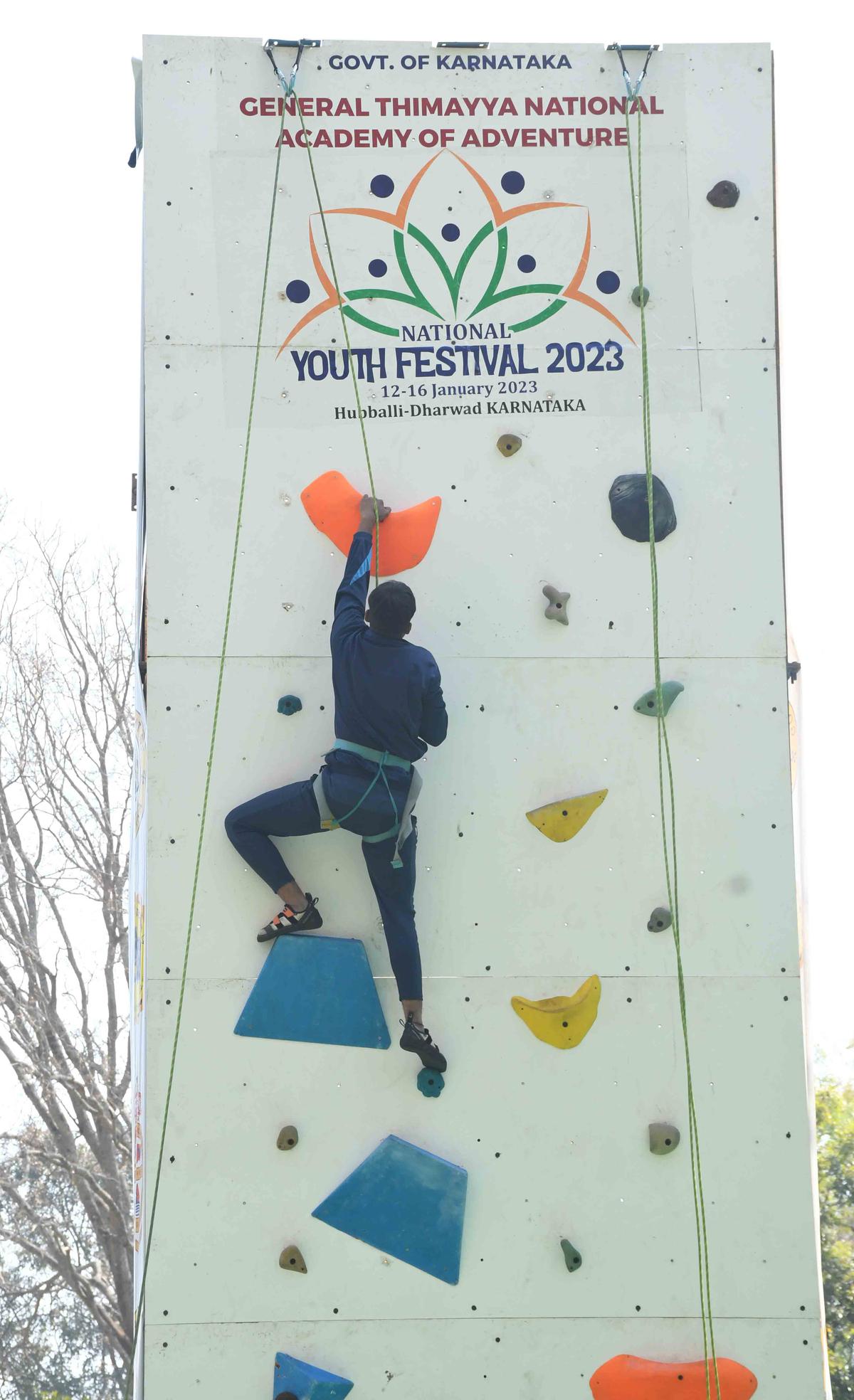 Adventure sports have also drawn attention of the crowd. Keerti Pais, Advisor to the Commissioner of Sports and Youth Empowerment said that for the first time at the National Youth Festival, crash courses were being conducted in association with General Thimayya National Academy of Adventure. He said these crash courses were for registered NYF participants and had seen good response.
Mr. Keerti said that the adventure sports like rock climbing and water sports were open to the public during afternoon and evening hours, while it was restricted to NYF participants in the morning.
Desi games
Manjunath M.R., Advisor to Thimmaiah Academy said that the 'desi games' at RN Shetty stadium had evoked great interest among the visitors to NYF. So far around 1,200 participants had taken part in the desi games and they were assisted by 60 volunteers of 'Kreeda Bharati' organisation. Along with these, eight teams among the NYF participants would be displaying their native games at the youth festival, he said.