She's run in an Olympic final; a world final. She's won a world indoor medal; a Commonwealth Games medal. But for Bahamian sprint hurdler Devynne Charlton, the two biggest prizes in athletics have so far eluded her – close enough to reach but not quite grasp.
And so, as the 27-year-old looks to the World Athletics Championships Budapest 23, her goal is simple. "I always like to elevate anytime I compete," she says. "I was in a world final, so now I have to go and win a medal outdoors."
She knows that doing so would blaze an inspiring trail for many young, impressionable athletes in The Bahamas. Charlton knows that because she was once one of them.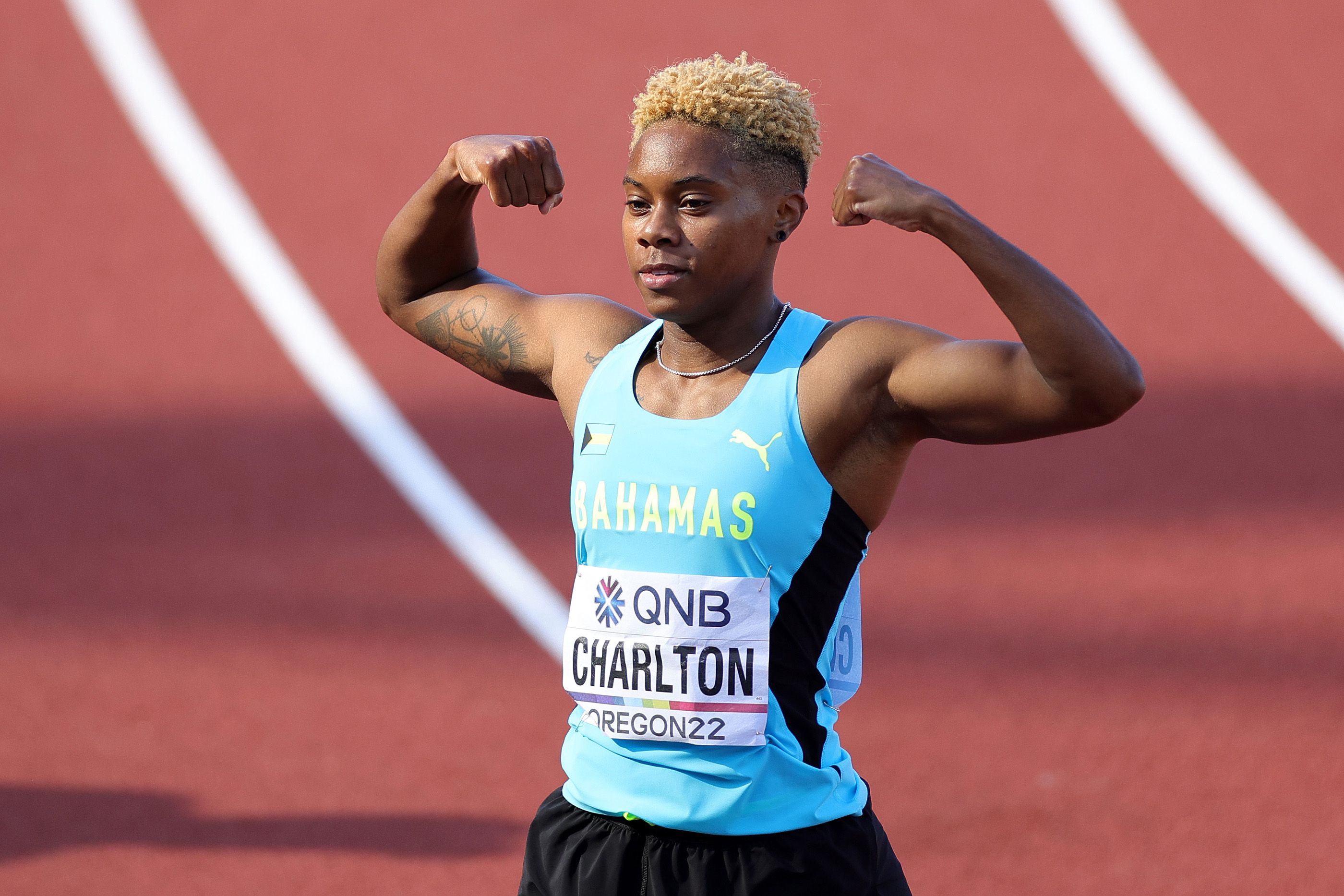 Devynne Charlton at the World Athletics Championships Oregon22 (© Getty Images)
Growing up in Nassau, her childhood hero was Debbie Ferguson-McKenzie, who was one of the 'Golden Girls' that claimed 4x100m gold for The Bahamas at the 2000 Sydney Olympics, with Ferguson going on to win a 200m world title the following year. Charlton's path into athletics came through her father, David, a standout NCAA athlete for Howard University who represented Bahamas in the 400m hurdles and 4x100m relay at the 1983 World Championships in Helsinki.
"It's only recently people told me how good he was back in the day; he was like Edwin Moses to the Bahamian community," says Devynne. "He's a humble guy so he doesn't talk about it much."
Given her father's background, Charlton "pretty much grew up on the track" but it wasn't until the age of 14 that she started to see any success. "Before that I loved the sport, I was always a competitor so that part was fun for me," she says. "But no, I wasn't good at all."
Charlton got her first taste of the global stage when competing over 100m at the World U18 Championships in France in 2011, aged just 15, and she also won a Carifta Games title that year. After finishing high school in 2013 she took her talents to the NCAA, enrolling at Purdue University, where she came under the guidance of Bahamian Rolando 'Lonnie' Greene, who is still her coach today. Charlton followed Greene to the University of Kentucky four years ago, where she continues to lend a hand as a volunteer coach to the next generation.
"They see me as old," laughs Charlton. "They tell me I'm old, that I'm pushing 30, but it's fun. I spent five years in college, pretty much in their shoes, so I know a lot of what they're going through and I can translate coach speech a little better – put it in a way they get it and understand."
It also brought her side by side with one of her heroes, Ferguson-McKenzie, who is an assistant coach at Kentucky. "I credit her with a lot of the good things that happened in my career," says Charlton. "I looked up to her as a kid and now she's a mentor, next to me on the track. She gives me travel tips, or with things like block starts or technique, she's really helpful."
There have been many rough moments along the path to this point. In 2016, a stress fracture in her back meant Charlton missed the outdoor season, travelling to the Rio Olympics but unable to line up in the 100m hurdles there. "I wasn't in any shape to race, I didn't want to embarrass myself," she says.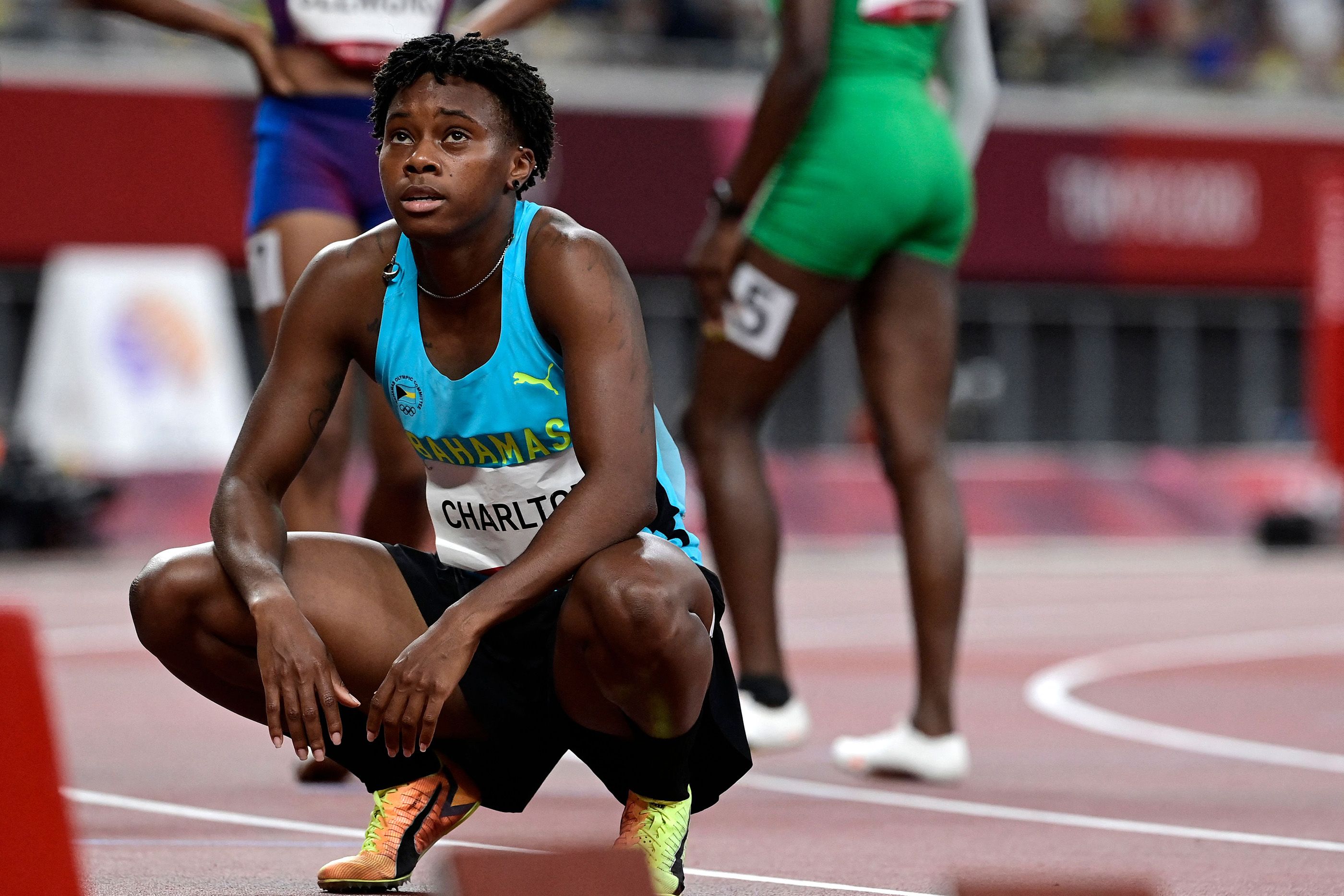 Bahamian sprint hurdler Devynne Charlton at the Olympic Games in Tokyo (© AFP / Getty Images)
In 2021 things were different, with Charlton lowering her PB to 12.61 early in the season and finishing sixth in the Olympic final in Tokyo, clocking 12.74, less than 0.2 outside the medals. Her first global medal would arrive the following year, with Charlton setting national records of 7.81 in both the semifinals and final of the 60m hurdles to win silver at the World Athletics Indoor Championships in Belgrade. In Tokyo, she had been a nervous wreck ahead of her opening heat and it showed in her sub-par performance, but in Belgrade she "did a good job" of managing the same sensation.
What made it all the better is that her parents were there in the arena, handing her the Bahamian flag ahead of her lap of honour. "They were crying, I was crying, it was a good time," she says.
At the Bahamian Championships last June, Charlton lowered the national 100m hurdles record to 12.60, and she and her coaches knew she was in 12.4 shape going to the World Athletics Championships in Oregon the following month.
"When you look at it, historically, 12.4 will usually win a medal at any level so we figured if I run a clean race, run 12.4, that's going to make the podium," she says.
She could barely believe her eyes when she walked out for her 100m hurdles semifinal, seeing that in the first semifinal, Tobi Amusan had lowered the world record to 12.12, with the last available time qualifier position – Cindy Sember, who finished fourth – clocking 12.50.
"That was really crazy, to see the bubble time was a tenth faster than my PR, I almost had an 'oh-no' moment," she says. "I had to win; I didn't want to leave it to chance." 
In almost still conditions (-0.1m/s), Charlton finished second in a big national record of 12.46 to advance automatically. In the final later that night, she finished seventh in 12.53. She knows neither race came close to her limit, given she "clipped a hurdle or two" in each outing. The nearest she's come to hurdles perfection had been four months earlier in Belgrade.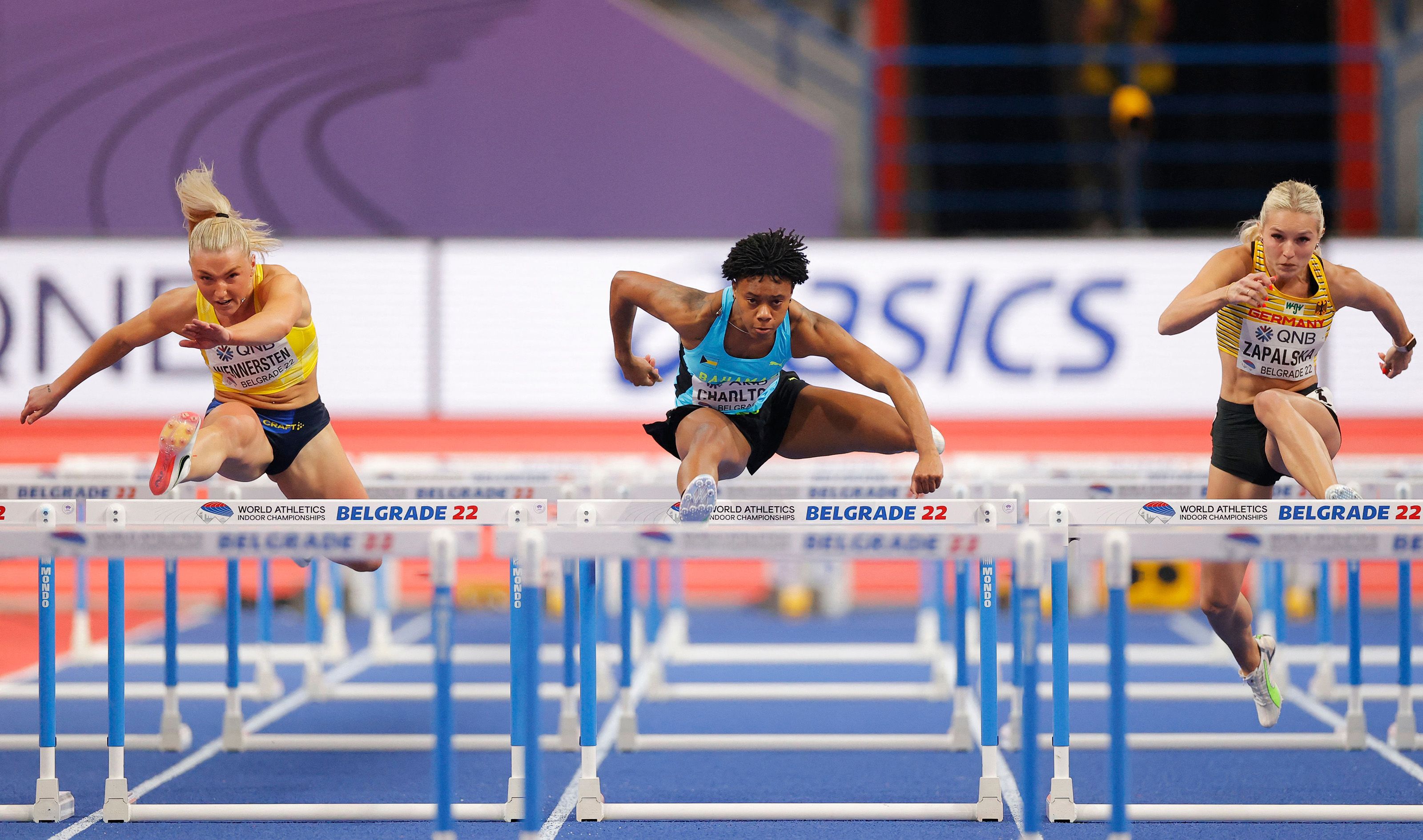 Devynne Charlton competes at the World Athletics Indoor Championships Belgrade 22 (© AFP / Getty Images)
"As far as execution goes, that semifinal was 9.5 out of 10," she says. "But I don't think my technique is near perfection yet. I have a lot of time that could be shaved off in that area alone. When you add that, add some strength, speed, those components will really make for a faster race."
Charlton is working hard to make sure all of those come together this outdoor season. She's typically on the track four days a week at Kentucky, then lifting two or three times a week in the gym. "Every day is high quality," says Charlton, who won twice during this season's World Athletics Indoor Tour Gold series – first at the New Balance Indoor Grand Prix in Boston and then again at the Millrose Games in New York. 
Outside of training, her dog takes up a lot of her time while whatever remains is often spent detailing cars or learning guitar. Beyond her competitive career, she's leaning towards coaching as her chosen profession.
"I like the idea of coaching high school, it's where you find the most passionate people," she says. "I'm drawn to working with a small group of people who really have a love and passion for it, seeing how I can develop talent."
Her achievements are already having that effect at home, with Charlton seeing more and more young Bahamians gravitate towards the hurdles, following in the footsteps of her and Pedrya Seymour, who in 2016 became the first Bahamian to make an Olympic final in the 100m hurdles.
"I can definitely see the shift in more coaches learning the event and teaching it to their kids," she says.
Charlton's focus in training right now is on improving the latter part of her race. "I have a good start, my middle really came together last year, but I just want to work on those last three hurdles and my race will be a lot better," she says.
If she can do that, her first medal at a global outdoor championships could be coming down the tracks, perhaps this year or perhaps in 2024. 
The goal either way will stay the same: "Definitely getting on the podium."
Cathal Dennehy for World Athletics