Almost everyone who knows a thing or two about the sports world can recognize that Air Jordans are some of the most popular sneakers of all time. What very few people know is that this partnership between Michael Jordan and Nike almost never existed. In Amazon Studios' latest sports drama, Air, director Ben Affleck and screenwriter Alex Convery highlight the struggles and hurdles it took Nike executive Sonny Vaccaro to overcome to secure a game-changing collaboration that would change the world of sports partnerships forever.
Matt Damon stars as Sonny Vaccaro, a Nike executive who aims to change his luck and that of his company's by scoring the biggest contract of his career with rookie Michael Jordan. With a fledgling basketball division, Nike was never an interest for the young basketball star. But with his back against the wall, Vaccaro pulls out all the stops to make a career-defining move and gamble with his CEO Phil Knight (Ben Affleck). The two things standing in his way? A reluctant Michael Jordan, who has his sights set on Adidas, and his mother, Deloris (Viola Davis), who only wants the best for her son and knows what Jordan's talents are worth.
Related: Ben Affleck & Matt Damon Open Up About Affleck Finally Directing Damon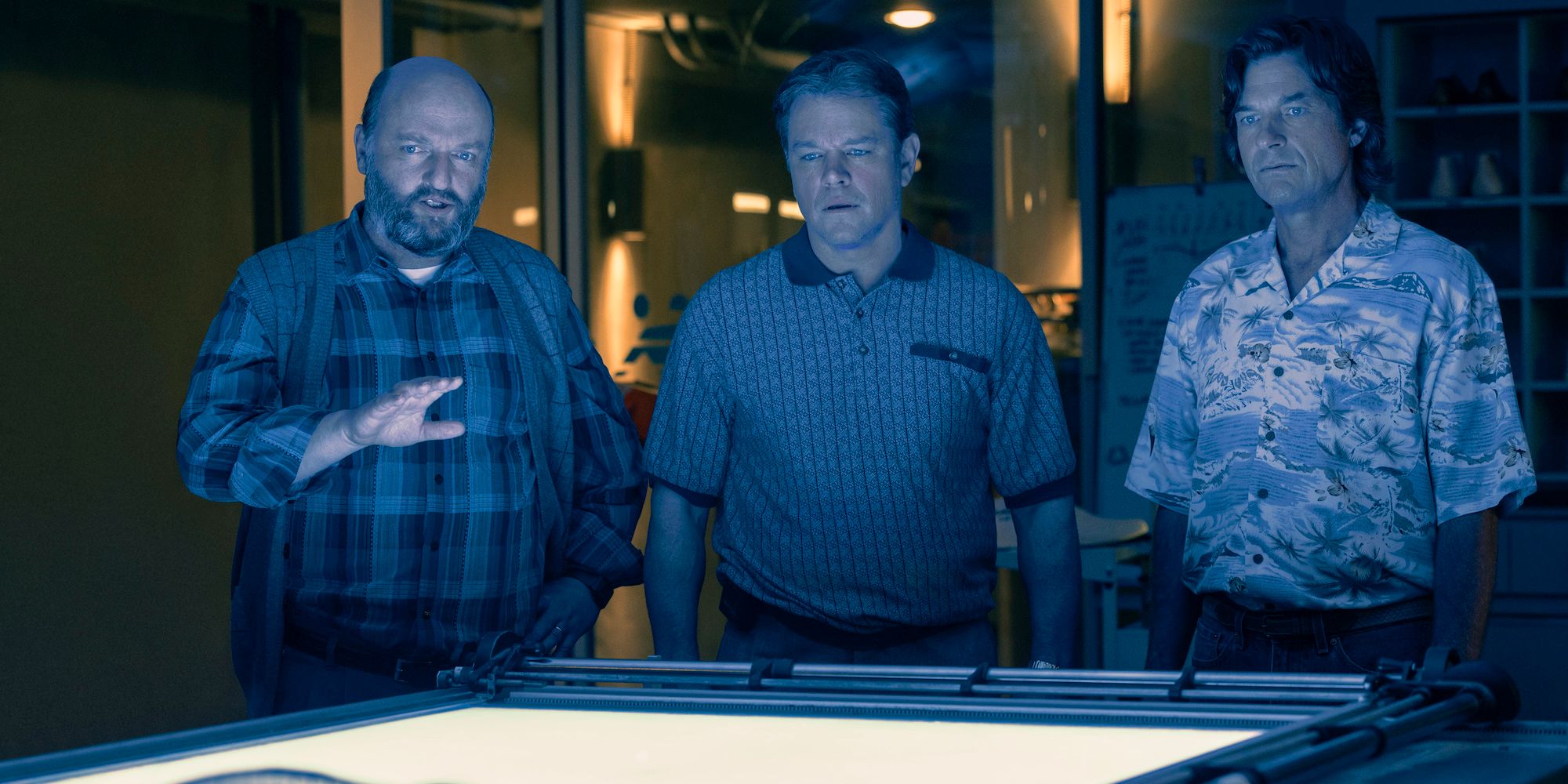 Air, featuring great performances and an incredible script, is one of those special sports movies that only comes along once in a while. It isn't a long-winded marketing ploy for shoe giant Nike, though it can come off that way. Instead, Affleck's latest is an inspirational feel-good story about believing in something (or someone) so much that one would bet all the stakes on it. The film zeroes in on this human aspect, opting out of the mundanity of detailed business talk, legalities, and contractual details, which is why the film succeeds. Convery recognizes that all movie-goers may not care too much about basketball, so, together with Affleck, he strategically and beautifully focuses his story on the people. And it's exactly what will hook viewers of all types.
One of the greatest achievements of Air's script is the believability of it all. Even knowing how it all plays out today, watching the depiction of Nike execs chase after a game-changing partnership with Michael Jordan is believable. Affleck plays his cards incredibly well, incorporating the back and forth between Nike and the Jordan family. Everything leading up to the finale is well-intentioned and thrilling, to say the least, but these elements are only half of what makes Air so great. Some may attribute this to the film's subject matter, but in reality, the entire cast and crew put together an exceptionally infectious feature worth watching on the big screen.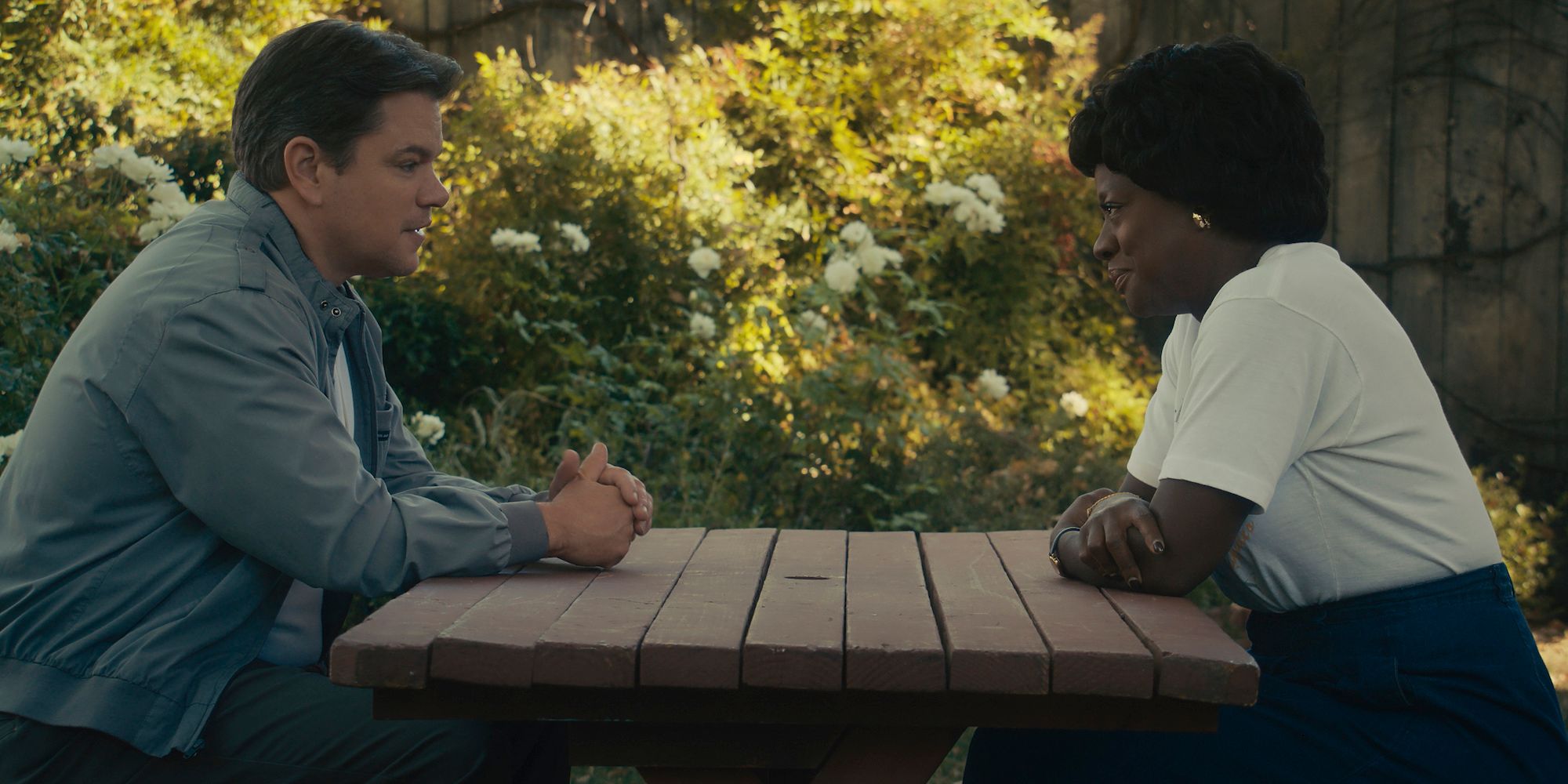 The stellar cast, in particular, is reason enough to run to the theater to see Air. Matt Damon, for example, is sensational as Sonny, balancing humorous moments with heartfelt ones. Even as an actor, it has to be challenging to come off as passionate as Damon does here (especially without a love of sports). But thankfully it oozes through him, which is why he's perfect for the role. Other noteworthy performances include Jason Bateman, Chris Tucker, Chris Messina (whose interactions with Damon are some of the most fun onscreen this year), Affleck, and Davis, all of whom make this feature thoroughly enjoyable. Good luck to anyone walking out of Air trying to determine a favorite because they all come with their A-game and nail every minute of their screen time.
It would be remiss to mention all these great elements without stating the obvious: Affleck's direction in Air is stupendous work. The way in which he interweaves footage and sequences with real life imagery is fantastic. Additionally, the level of detail Affleck incorporates in nearly every scene to capture the setting of that time highlights his passion for the subject and how he has improved as a director. But above all, his latest is simply a joyous experience consisting of electrifying cast chemistry, inspiring messaging, and an uncanny desire to root for the sneaker giant even though the outcome is already known. The Air Jordans and Nike partnership is legendary, and thanks to it, this film is soon to be the same.
Air releases in theaters on April 5. The film is 112 minutes and rated R for language.