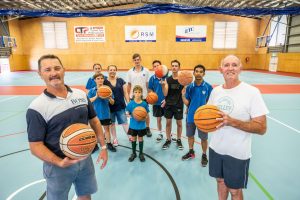 THE Casino Indoor Sports Stadium is reopening its doors after major flood repairs, and Richmond Valley Council is keen for it to become a focal point for sporting and community activities.
Competitions in basketball, netball, futsal and volleyball are restarting in the coming weeks, and Richmond Valley Mayor Robert Mustow said it was great to see the stadium back in action again.
"The stadium is a premier sporting facility in the community and an important part of the Richmond Valley," Cr Mustow said.
"It was greatly missed while the repairs were underway, as it provides wonderful opportunities for everyone from kids to seniors."
A keen basketballer himself, Cr Mustow said he was looking forward to trying out the new floor surface at the stadium.
The floor was severely damaged by the floods of February 2022, and now has a new Pulastic floor which will be much more resilient to future flooding.
Facility manager Gary Ellem said the new floor provided a high-impact sports surface for various uses and would allow more activities to be staged at the stadium.
Mr Ellem said the Indoor Sports Stadium would also reopen with a new coordinator, Richard Campbell, who has extensive experience in sports education and running facilities across the country.
"Richard began his fitness career as an instructor in Casino and was part of the premiership-winning Casino Cougars side in 1985," Mr Ellem said.
"Richard's most recent position was at Southern Cross University managing gyms at Lismore, Coffs Harbour and the Gold Coast.
"I'm sure Richard will bring tremendous value to the Casino Indoor Sports Stadium, and we look forward to activities commencing again."
The stadium provides a large, enclosed area with high ceilings, ventilation, and two full-sized courts equipped for multi-sport activities. Wheelchair access is available to the Stadium, alongside shower and toilet facilities and a central curtain to allow different activities.
Council is keen for the stadium to be used by the broader community for events and recreational activities.
For more information on hiring the stadium for sporting or community use, contact Richmond Valley Council or visit the Casino Indoor Sports Stadium.