Goat Yoga at Steinmetz Family Farm | Outdoor Sports, Hunting and DIY Crafts
FLEETWOOD, Pa.—Goat yoga. It's an actual thing. Perhaps I was the only biped who hadn't…
FLEETWOOD, Pa.—Goat yoga.
It's an actual thing. Perhaps I was the only biped who hadn't heard of it, until I saw a cheerful woman loading her stuff into her little station wagon following a local festival, and I noticed the eye-catching activity scrawled upon her grease-pencil board.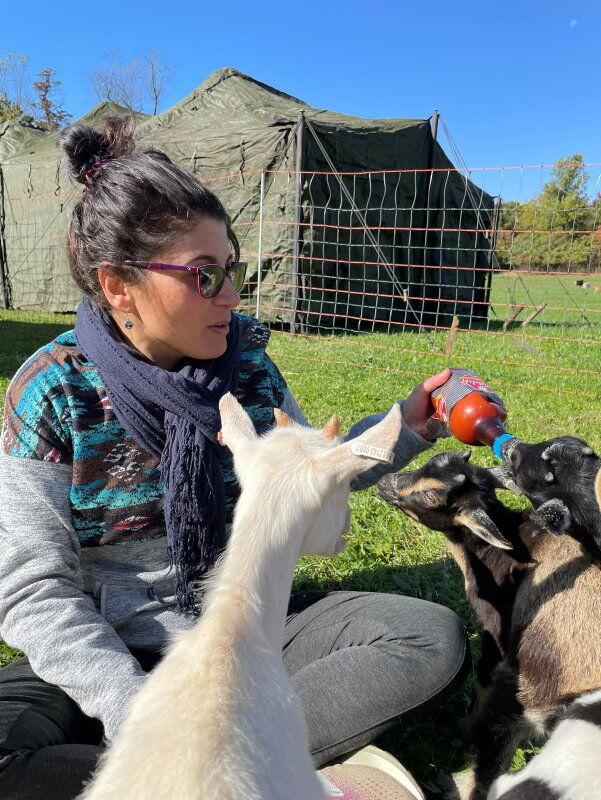 Her name is Nancy Yurkovich, Boyertown elementary school art teacher by day, multifaceted artist and goat-yoga instructor … also by day (stay tuned for night-vision goat yoga).
The whole concept screamed "participatory journalism," so I called the host farmer to see about butting my way into a session. Fate smiled like the sunshiny day that greeted me the very next Saturday at Steinmetz Family Farm in Fleetwood.
"We got an old farmhouse three years ago in hopes of fixing it up," Justin Steinmetz said of his family's 12-acre homestead on Lake Road. "And then we realized we had all this land, and kind of shame to make the land go to waste. So, we got a couple goats, and then turned into a couple more, and then it turned into chickens and pigs and ducks. And now we've got cows, and we've got the works. And now the house kind of went on the back burner."
The farm menagerie was strictly for the family's own enjoyment, he said, until his wife, Lauren, came up with a hairbrained proposition.
"The whole goat business was my idea," Lauren Steinmetz said from the Bear Creek Country Jam Music & Fall Festival, where the couple was set up with their mobile goat-snuggling booth the day following my goat yoga session ($5 gets you in for unlimited snuggling).
"We wanted to have a stand at the folk festival in Kutztown," she said. "And I said, 'What if we took our baby goats and had a snuggling stand?' And he said, 'You're insane.' And I was like, 'No, I think people would really enjoy it.' So that was in July, and it has just really taken off since then."
So much so that Justin Steinmetz had to pull back on his job as a self-employed carpenter to accommodate all the kidding around.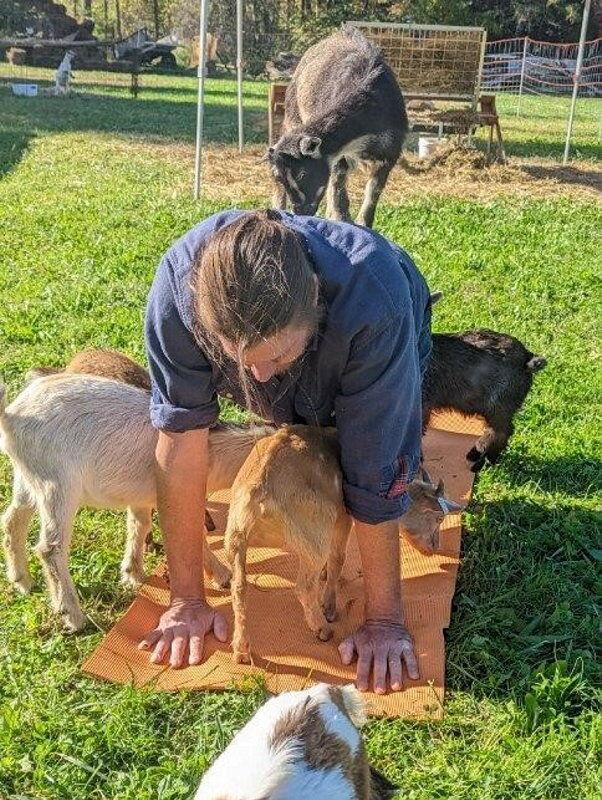 "My wife made a bunch of business cards for, like, goat yoga, birthday parties, goat snuggling and all that kind of stuff," he said. "And next thing you know, our calendar just booked up. I had to quit my job a couple of weeks ago, and this is all I do now. I bottle feed like 30 baby goats three times a day, and we take care of the big goats and all the rest of the animals."
Goat rental is a thing, too.
"Weekends are slammed," Justin said. "I have 10 going out for another yoga class up on Blue Mountain. They're renting goats. They got their own instructor. Then I have some other birthday party people that are renting goats. So, I think we have close to, I don't know, 15 or 20 going out."
As the goats get too big to climb aboard yoga students, he said, they are either kept as pets or sold to forever homes.
"We don't butcher," Steinmetz said. "We rescue a lot of these goats from auction or other farms."
Hitting the Mat
Nancy Yurkovich and Lauren Steinmetz teach at the same elementary school and have been friends for a decade.
"She just asked me, 'Hey, do you want to do this?' And I said, 'Of course I do. Why not?'" said Yurkovich, a certified yoga instructor (goat yoga certification is not a thing, yet).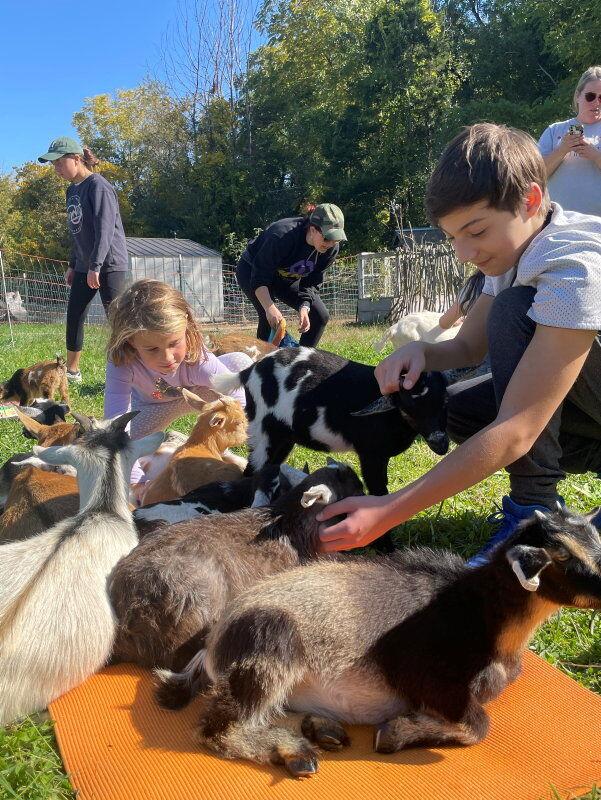 "It's great for exercise," she said. "But I think the joy of goat yoga is … It's more of a practice to have an experience with these goats. I think it's good for people's souls and mind. It feels helpful for people who have maybe anxiety or depression … You're making this connection with this, this living creature who just gives you all this love."
True dat, and then some. Thankfully the little, dark-brown balls of enthusiasm deposited on my orange yoga mat over the course of the approximately 1-hour session were both easy to spot and firm enough that they could be flicked or (gently) wiped off onto the surrounding grass.
It's all part of the experience, I told myself. Honestly, I was having the time of my life.
I have actually practiced yoga, sans animals, off and on (mostly off) since my early 20s, but fresh off four days of section hiking the Virginia Appalachian Trail with a heavy backpack, trying to keep pace with a through-hiker whose trail name is "Beast," my stiff appendages said otherwise. Baby goats — naturally cute and curious (hence the "kid" moniker) — magnified the challenge.
Add a little grain, sprinkled periodically by Justin (who was obviously also having the time of his life) on yoga mats, and the bending bodies of participants, and it's absolute mayhem.
"High-impact yoga," I thought to myself as one little kid T-boned his brother into my awaiting stomach.
Before I knew it, it was time for shavasana or "corpse pose," a supine (flat on your back) position where the body completely relaxes (theoretically) into the earth, letting go of the stress of the day, the week, the month, the year, a lifetime.
"Not without protection," I reassured myself as I tentatively closed my eyes, strategically protecting any soft tissue as best I could. "Justin is still lurking around somewhere with that feedbag!"
Find out more about how you can get your goat on at Steinmetz Family Farm here. 
9 Goat Yoga Does and Don'ts
DO:
Put your hair away.
Bring baby wipes.
Wear old clothes.
Bring something to change into if you plan to go anywhere but straight home afterwards.
Protect your soft tissue.
DON'T
Leave ANYTHING lying unsecured on the ground.
Encourage the farmer to sprinkle more grain on you by laughing hysterically.
Borrow someone else's yoga mat for this exercise.
Miss a chance to try goat yoga.
Watch a clip from a goat yoga session below.