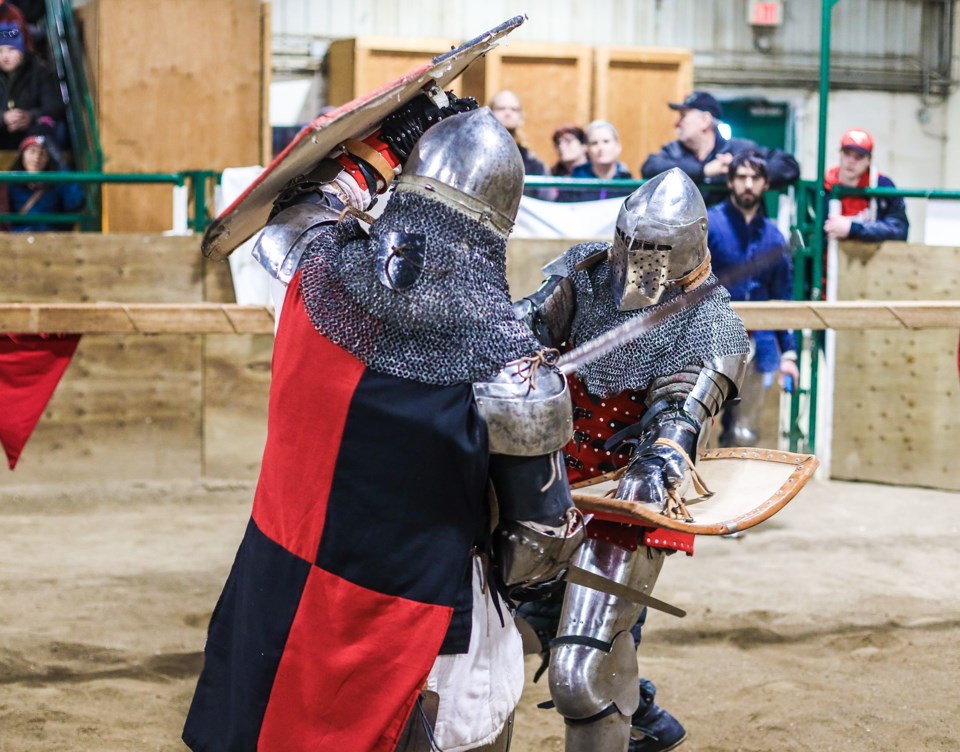 Heavy Armoured Combat Sports Association returning to Okotoks with its Canada Cup tournament Jan. 14-15
Sword and steel will clash in the Okotoks Ag arena this January. 
Returning after a successful event in 2020, the Heavy Armoured Combat Sports Association (HACSA) is holding its Canada Cup Armoured Combat Tournament at the Okotoks Agricultural Society's indoor arena on Jan. 14 and 15. 
"It's something unique," said Richard Manns, HACSA president and member of the Calgary Silver Gryphons. "Some guys call it a sport, some call it re-enactment, but essentially, we just enjoy the team aspect and bringing everybody together in a community who like not really the old ways, but sword fighting and letting loose a little bit without hurting each other." 
The sport is officially called buhurt, a word derived from the Old French word béhourd, translating to 'wallop'. 
Less about reenactment or role play, buhurt is more about the simple sport of combat.  
"There's definitely a structure, and the best thing is you can hit somebody without worrying about sending them to the hospital," Manns said. 
Using blunt and dull swords, as well as high quality armour, competitors do not thrust, but swing their swords with full force.  
The structure and rules HACSA and most buhurt competitors adhere to are governed by the Historical Medieval Battle International Association and International Medieval Combat Federation. 
"You're swinging for the fences for sure," Manns said, explaining there are three different categories. 
"One is duels – it's kind of like fencing but you can hit as hard as you want as often as you want within a certain time period and you get all sorts of different weapons. 
"The group fights you're also swinging for the fences, but the entire purpose is to get them on the ground; you want to get the entire team on the ground. 
"Back in the old days, being on the ground as a knight was a death sentence, so you can do whatever trips, throws, wrestling moves, strikes with a sword, axes, mace, falchions – any weapon you want to use as long as it's within the rules you can use it. 
"The third one is called Pro Fights; it's more like MMA (mixed martial arts), but in armour." 
The Calgary knight found the pursuit himself in 2016 after trying other sports. 
"I saw some guys hitting each other at a mini tournament at the Cochrane Medieval Fair," Manns said. 
"I had been doing soccer, hockey, karate, and none of them kind of lived up to what I was hoping for, then I saw this stuff and thought to myself, 'That is just the right amount of violence for me.'" 
Ever since, he's been hooked. 
"I don't even follow hockey anymore, I don't follow football; it's all either sword fighting or nothing," Manns said. 
Getting kitted out wasn't cheap, but the equipment has to meet high standards. 
"We actually order a lot of our armour from Ukraine," Manns said. "It has thickness requirements, material requirements, you can use mild steel, spring steel, or titanium and it can cost anywhere from $2,000 to $10,000. 
"It's got to meet a very specific threshold of material quality, because it's taking a lot of abuse." 
Despite that, Manns said his armour has been costing him less than hockey gear. 
Previously called the Winter Cup, the event was held at the Okotoks Agricultural Society's arena in January 2020. 
"It was really well received; pretty much everybody who came to the tournament had really good things to say," Manns said. "We didn't get any complaints about the level of violence, and it ended up being a really positive experience for everybody." 
They're returning on an even greater scale, with teams coming from across North America. 
"This time we have a lot more teams coming; we have Quebec, Ontario, Yukon, Saskatchewan, Manitoba, Alberta, B.C., Salt Lake, Los Angeles, and we're trying to get Texas – it's slowly becoming an international thing," Manns said.  
"What we're hoping is to put it on once every six months in the same location and try to make this area the place to be for this sort of thing in Canada." 
The event is right down the road for Davisburg resident and Silver Gryphons member David Greyland, and right up his alley. 
"I think it's great because I used to bull ride, and I went from that to this and was just like, 'Well this is good,'" said Greyland. 
"It gives you that adrenaline, but it gets you active, you've got to think on your feet – it makes you feel young." 
​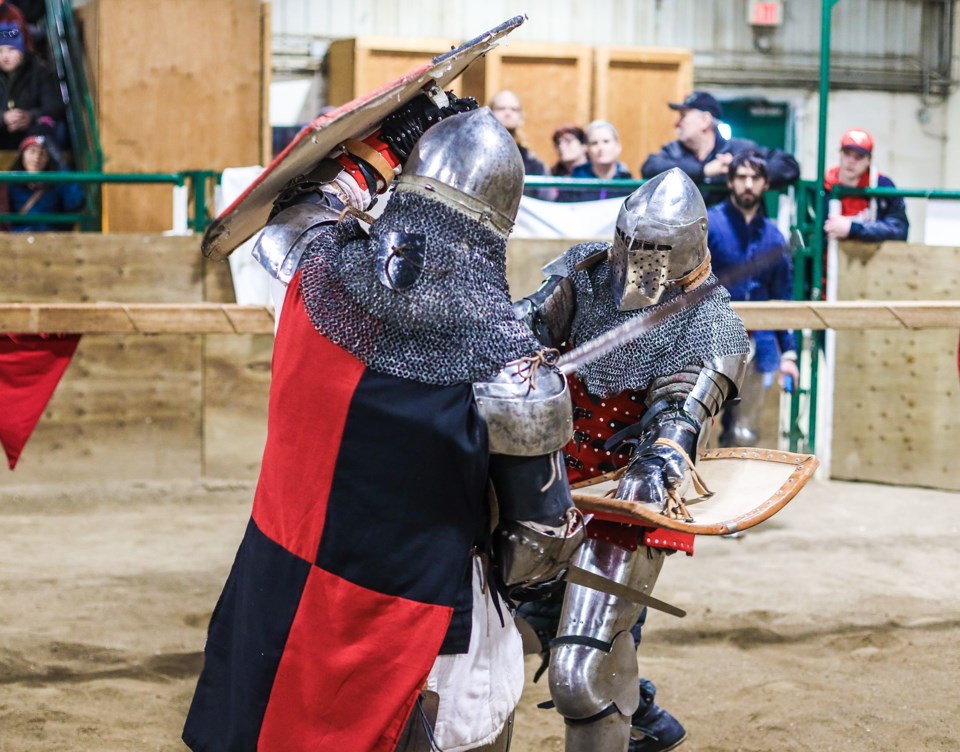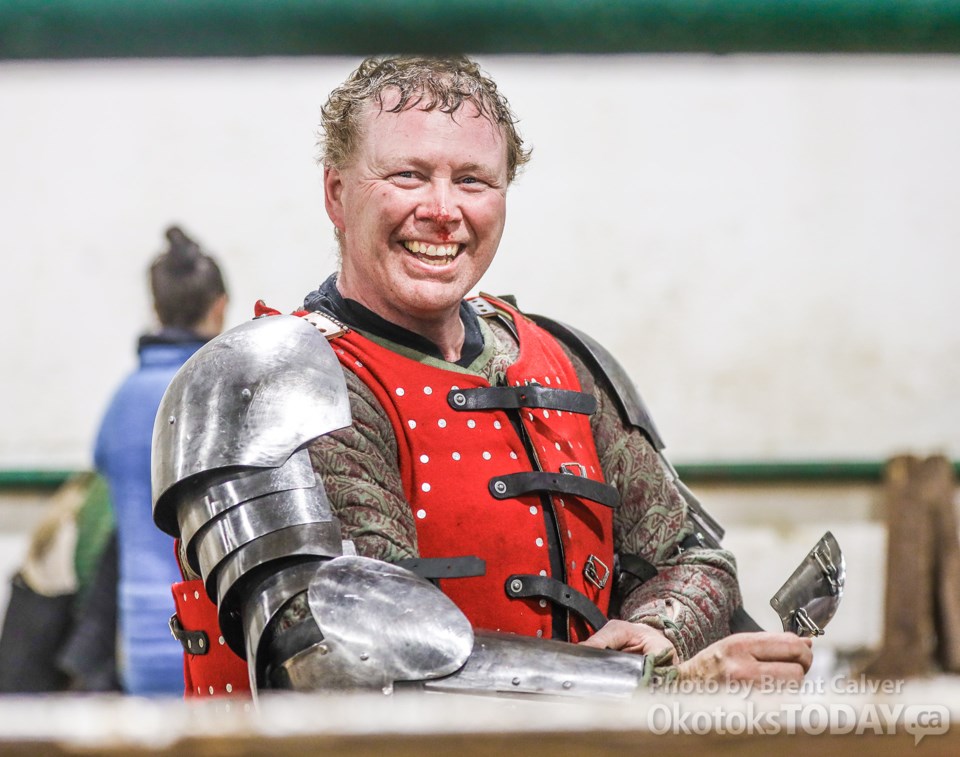 The Foothills farmer's weapons of choice are the longsword, as well as a sword and shield combination, sometimes mixing in a punch shield – an elongated shield designed to have the edge thrust at an opponent. His teammates are also teaching him to use pole arms. 
"It was about four and a half years ago, and I was always interested in it but didn't quite know how to get into it," Greyland said. "It went from there and now I'm just givin 'er in it." 
Tickets and information can be found on Eventbrite under the Canadian Classic Medieval Tournament or through https://facebook.com/HACAlberta.