IT BEGINS, AGAIN: Change in the air as North Shore football teams hit the practice field | Sports
Football teams across the state got to work on Friday and North of Boston, some…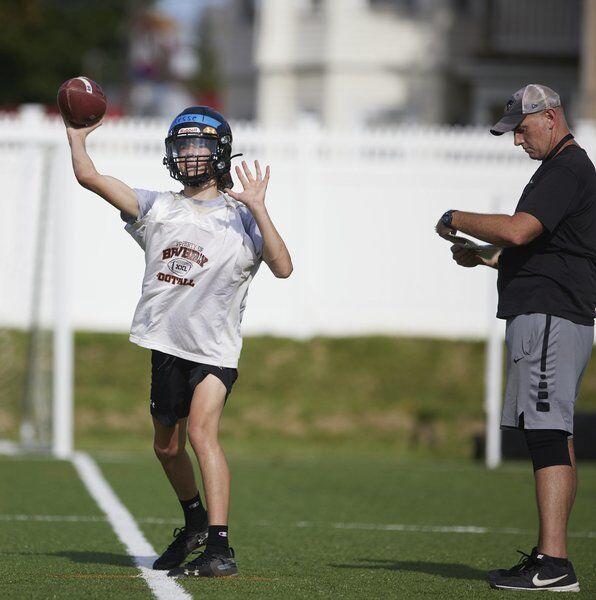 Football teams across the state got to work on Friday and North of Boston, some of them were winging it.
Not as in playing things by ear or making them up as they went along, but as in getting down to the brass tacks of installing portions of the vaunted Wing-T offense.
That was surely the case for North Shore heavyweights Beverly and Danvers. Under new coach Jeff Hutton, a Wing-T guru who employed a modernized version of the set with some pistol looks at Manchester Essex, the Panthers got to work on day one with big energy and a renewed sense of vigor.
Neighboring Danvers is going to employ some Wing-T blocking concepts and formations as well. The Falcons landed one of the coaching coups of the North Shore this offseason when reigning Salem News Coach of the Year Kevin Fessette, who resigned from Ipswich after the Fall 2 season, came on board to help run and install the offense.
Bruce Rich, who ran Danvers' run heavy, stack-I offense the last several years, understandably departed to work at Northeast, where he's the softball coach. The timing worked out perfectly since Fessette was available. He quickly found a home, with our Phil Stacey reporting Fessette will be Danvers High's new boys hockey head coach as well.
"We're very lucky to have him. I can't think of a time when I learned so much from another coach in such a short period of time," Danvers head coach Ryan Nolan said. "His system is pretty unique and causes a lot of problems for defenses. Everyone in our program is really excited about the fall."
New offensive sets aren't the only changes coming to North Shore football this fall. There's some conference realignment on the horizon.
In the Northeastern Conference, Peabody has been dropped to the South division to balance the sides with five teams each. The move was based on record against NEC foes over the last several seasons, and sees the North as Marblehead, Danvers, Beverly, Swampscott and Masconomet with the South being Peabody, Salem, Winthrop, Saugus and Gloucester.
Perhaps this could see the end of Peabody's now 21-year league championship drought, the school's longest in 120 years of varsity football. The Tanners have finished second in three different leagues (the GBL in 2002, the NEC South in 2014 and the NEC North in Fall2) since their last title in the year 2000, but have been third or lower 17 times. It's the longest league championship drought of any program in the NEC besides Salem and Saugus.
If the Tanners are favorites in the NEC South, Marblehead has to be the favorite in the NEC North. It's not surprise since Shea Lynch and Josh Robertson are the two best quarterbacks in the conference, with Swampscott's Cam O'Brien and Masconomet's Matt Richardson both right in middle of that conversation.
You'd have to think Peabody's 27-year old single season passing yardage record of 1,233 is in big danger of being reset by the sublime junior Lynch. As for Robertson, the reigning NEC MVP and Salem News Offensive Player of the Year, he'd need to hit 2,051 passing yards to break Garret Keough's single season MHS record. With 2,800 career yards and 30 TD's, he's a good bet to set new career records and finish in the top-five on the North Shore in passing TD's.
You can't overlook coach Bob Serino's Big Blue, either. They had a strange Fall 2 season, with several weeks lost to COVID-19 quarantines, so they're a bit under the radar. But they have an experienced QB, a great coaching staff and plenty of weapons. They're in the mix.
The Cape Ann League has also realigned. With Manchester Essex going to the Commonwealth Athletic Conference (for football only), the league has eight teams. That means there'll be no Kinney or Baker Division for football this fall, every team will play the others once. Because every team has a Thanksgiving rival and the MIAA is going with eight regular season weeks this year, that means the title will likely be decided on Thanksgiving and schools still have two open dates for non-league bouts.
One other scheduling note: At present Masconomet does not have a Thanksgiving Day opponent. The rivalry with Everett always felt mismatched and short-term and the Chieftains opted to move on. Everett picked up St. John's Shrewsbury but Masconomet is still looking; athletic director John Daileanes said last week that a few possibilities fell through and the school is hoping something opens up.
The other major realignment for the 2021 season is the state's entire divisional structure. The mid-November playoffs will be a statewide tournament, which would presumably make the road to Gillette Stadium a bit harder for teams like St. John's Prep, Bishop Fenwick and Marblehead that have generally dominated North of Boston competition; usually there are a few really tough teams on the South Shore.
The Prep is the only local team in Division 1, although somewhat curiously former NEC member Lynn Classical has been bumped up as well.
In Division 2, Peabody is joined by Beverly. The ridiculous inclusion of Catholic Memorial in Division 2, rather than 1, puts a serious damper on any Super Bowl hopes of the Tanners and Panthers.
Marblehead and Masconomet are in Division 3. So is former Swampscott coach Steve Dembowski's Milton squad, keeping alive hopes we could see a Dembowski vs. Jim Rudloff matchup in a Super Bowl. Powerhouse teams like Walpole and Billerica might have some say in that, too.
Division 4 features Danvers and Salem, locally, with Tewksbury, Duxbury and Melrose certainly among the favorites.
Swampscott, the defending Division 5 Super Bowl champion from 2019, is still in that division along with Bishop Fenwick, Essex Tech, Gloucester and Saugus. Ipswich is now in Division 6 and Hamilton-Wenham is in Division 7.
Don't forget about the Pingree School, either. The Highlanders were the only local team that got no action in the 2020-21 school year, although a number of their highly skilled guys played some spring ball in "The League." Head coach Mike Flynn's guys, led by the likes of Alex Theriault and Hudson Weidman, ought to contend for a third straight NEPSAC bowl bid.
Those are just a few of the changes coming to North Shore football in the next few weeks. We're 18 days away from game action on September 10 and of course as we get closer we'll give you more in the way of players to watch, impact ball carriers and receivers, hard hitting tacklers and potential game breakers; what's listed here only scratches the surface.
It's crazy to think that this week is the first potential double session practices in two years. It was a year ago this week that the NEC initially decided to cancel all Fall sports competition, a call they rightly backed off from. Thinking back on that modified fall season without football 12 months ago, it feels absolutely spectacular to be winging it with some pigskin thoughts.
###
Matt Williams has covered North Shore football for The Salem News since the 2007 season. You can contact him at [email protected] and follow along on Twitter @MattWilliams_SN
||||