Kyle Busch's Cold One-Word Response to Toyota Question Goes Viral
Kyle Busch seems to have had enough of Joe Gibbs Racing after spending a decade…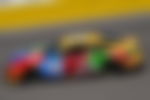 Kyle Busch seems to have had enough of Joe Gibbs Racing after spending a decade and a half with them. Now as the season inches towards its end, Kyle Busch's tonality is increasingly showing his frustrations and eagerness to leave for greener pastures at Richard Childress Racing.
ADVERTISEMENT
Article continues below this ad
During a recent interview after the race at Homestead, Busch delivered his signature one-word response, which seemed to have entertained a majority of the NASCAR fan base.
ADVERTISEMENT
Article continues below this ad
As per NASCAR journalist, Austin Konenski, Sportscaster Dave Burns, asked, "It seems like you had a pretty good Toyota".
To which, Kyle Busch replied, "No."
Busch has been known to give repeated or one-word answers when he has no interest in dealing with the media. This is not something new or out of the blue. Interaction like this near the end of the season can easily showcase his displeasure with his current team.
Fans react to Kyle Busch's response
Fans went berserk at Busch's hilarious worded response and couldn't contain their amusement. So they headed over to Twitter to share their feelings on what Kyle Busch might be going through.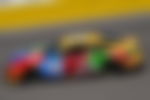 Fans believed that Busch has had enough and could not pretend any longer that he was happy at JGR.
Toyota don't deserve him anymore 😭

— bad nascar opinions (@badnascarfolks) October 22, 2022
ADVERTISEMENT
Article continues below this ad
WATCH THIS STORY: "Not Classy Whatsoever" – When a Rash Bubba Wallace Was Condemned By NASCAR for His Actions Against Hendrick Motorsports Driver
ADVERTISEMENT
Article continues below this ad
It is known that Joe Gibbs Racing was unable to get a contract extension with a new sponsor as his existing sponsor M&M's plan to leave the sport after the season. Busch is certainly frustrated and angered at the current team owner, Joe Gibbs. However, now we are all aware that Busch is headed to Richard Childress Racing. We hope that the new environment makes him feel at home and that he can go back to focusing on his race more than anything else.