Lisandro Martinez exclusive interview: World Cup celebrations and why Marcus Rashford can be one of world's best | Football News
Lisandro Martinez has echoed the view of his Manchester United team-mate Casemiro by saying Marcus…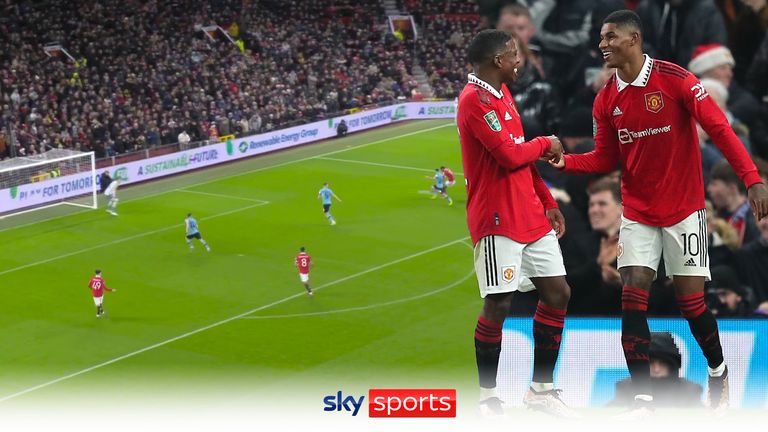 Lisandro Martinez has echoed the view of his Manchester United team-mate Casemiro by saying Marcus Rashford can become one of the world's best players.
Rashford has been in excellent form for club and country this season, scoring his seventh Premier League goal of the campaign in Manchester United's 3-0 win over Bournemouth on Tuesday and following that up with a late penalty and two assists in Friday night's FA Cup defeat of Everton.
Casemiro described the 25-year-old as a "spectacular" player who could become one of the top five in the world in comments made to ESPN Brazil before that game, and World Cup-winner Martinez has told Sky Sports News he shares the Brazilian's opinion.
"For me, Rashy is an incredible player," he said.
Watch Marcus Rashford's brilliant solo goal against Burnley in the Carabao Cup

"He can be anything he wants to be, it all depends on him."
Rashford was dropped to the bench by manager Erik ten Hag for United's recent clash with Wolves after oversleeping and reporting late for a team meeting, for which he apologised, but Martinez underlined his professionalism as well as his talent.
"I see him around the place and he's such a professional," he said. "I know how much he gives every day in the training sessions, and I like to think that I'm always there to help him and speak with him if he needs any advice.
"I totally agree totally with Casemiro. He's a key player for us and he's the sort of player who can turn a game in an instant.
"But it's not just about his individual aspects, it's his work-rate as well. He's got that team ethic and team spirit about him.
FREE TO WATCH: Highlights Manchester United's win over Bournemouth

"He realises the importance of the team and his work rate for the team is very, very important as well.
"He's got a great attitude and I think he's going to be one of the best players in the world."
'Competition for places is positive'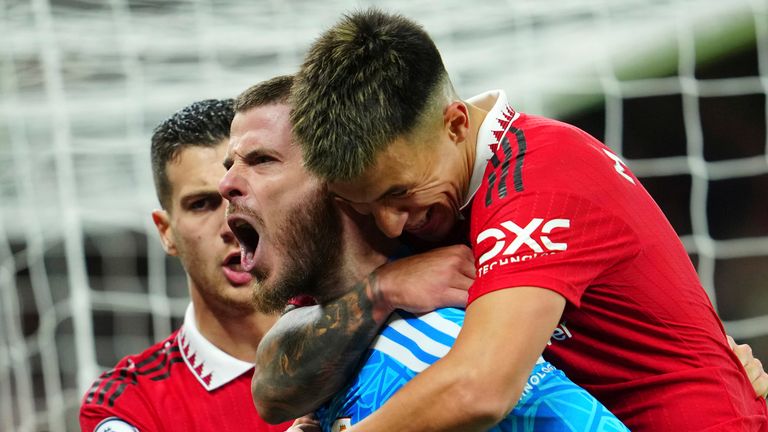 The win over Everton was United's seventh in a row in all competitions and the first time in five games they have conceded, leaving Martinez facing a fight to win back his place in the team having returned from holiday after helping Argentina win the World Cup.
"I like when there's competition for places, I think it's a positive," he said.
"The vibe and the atmosphere in the dressing room is really positive and I'm proud we're on this good run. It shows we are on the right road and we are making progress.
"At the start of the season, we didn't have the best of couple of games, but we managed to turn things around and that makes you stronger.
"I think now, within the group, there's a different kind of energy and atmosphere.
"Training is even more lively than it's ever been. We can't drop our guard, but three wins and three clean sheets is something to build on."
'Argentina celebrations were crazy!'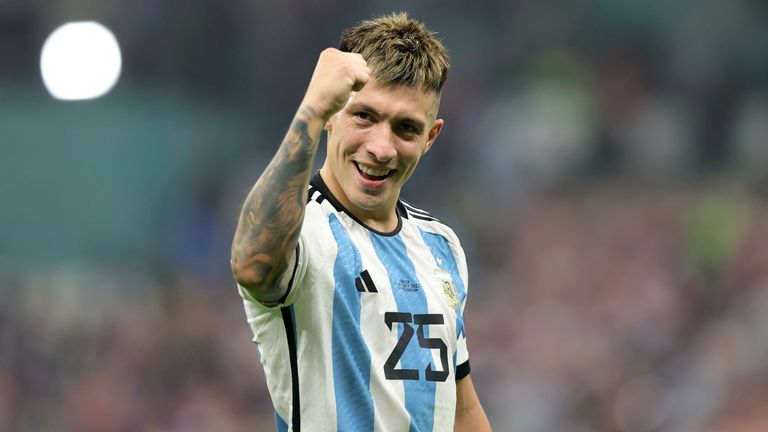 Martinez, who appeared as a substitute in Argentina's extraordinary World Cup final triumph over France, admits he is still coming to terms with their success after enjoying the "crazy" celebrations with the team in Buenos Aires.
"The celebrations were crazy," he said. "One thing that really hits home is how happy you've made everybody back home.
"Growing up, we've all watched videos of previous World Cups, back in 1978 and in 1986 with Diego Maradona.
"We wanted to get the hat-trick, the important third trophy, so when we were training and working through the World Cup, we lived that tournament and we were driven and had a force behind us.
"It's incredible now to sit back and see how happy we've made everyone.
"I have to look at images and videos for it to sink in because the idea that we actually won it, to see the enormity of that reality, you have to look at the images to know it's true."
'Varane friendship key'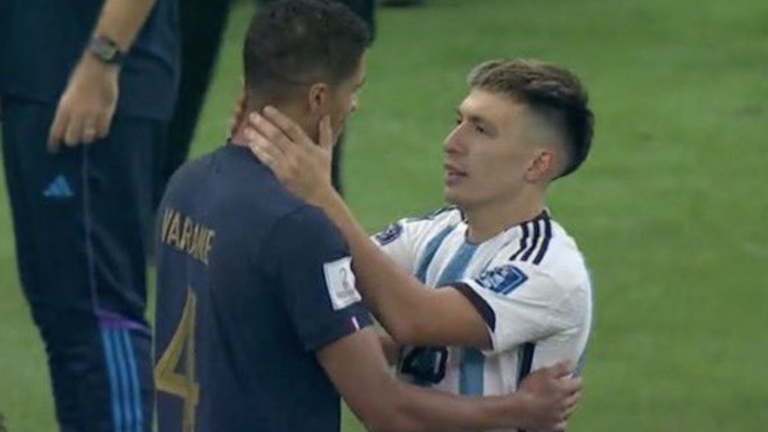 Martinez was pictured consoling his United team-mate Raphael Varane as Argentina celebrated at Lusail Stadium and says his good relationship with the French international has been key to their budding partnership in central defence.
"It was really, really important," he said of their embrace on the pitch after the game.
"We've only known each other a short time at United but we get on really, really well and there's a real mutual respect and feeling between us. It's like we've known each other for years.
"He was my opponent, but that's football. One team has to win, and won team has to lose, but I think it's important to recognise that.
"There's a mutual love and respect between us. We shared that hug and it was important because football is like that. What happens on the pitch, stays on the pitch, but what happens off it is just as important and relationships like that count."
Ten Hag: Great performance by 'unstoppable' Rashford
Speaking after Manchester United's FA Cup third-round win against Everton, manager Erik ten Hag said of Rashford:
"Again, a great performance. I think Marcus was the one who goes in front and showed the confidence, showed the belief, good movement behind, taking players on. I think he was a threat for 90 minutes for the defending part of Everton."
Asked if there is more improvement to come, Ten Hag added: "You can never say with football. How can you measure it? Of course, as a striker, you measure goals and assists. Today, he had two assists and a goal, so that was great. He has fantastic skills.
"When he has that mental stability he keeps going, but that demands a lot from him and also a lot from us as a team to make sure that we have the right organisation, the right environment, the right structure. But when he remains focused like this, I am sure he can keep this going."
Ten Hag later added: "As a team we have to make sure we create the space, playing to his strengths. That is about Marcus doing really well but also the team, getting into the shapes. I think he is unstoppable with his speed, his dribbles and his directness."