McCracken Sports Tourism Commission to begin negotiations for sports venue management | News
After hearing two companies make presentations Wednesday about how they can help the proposed Greenway…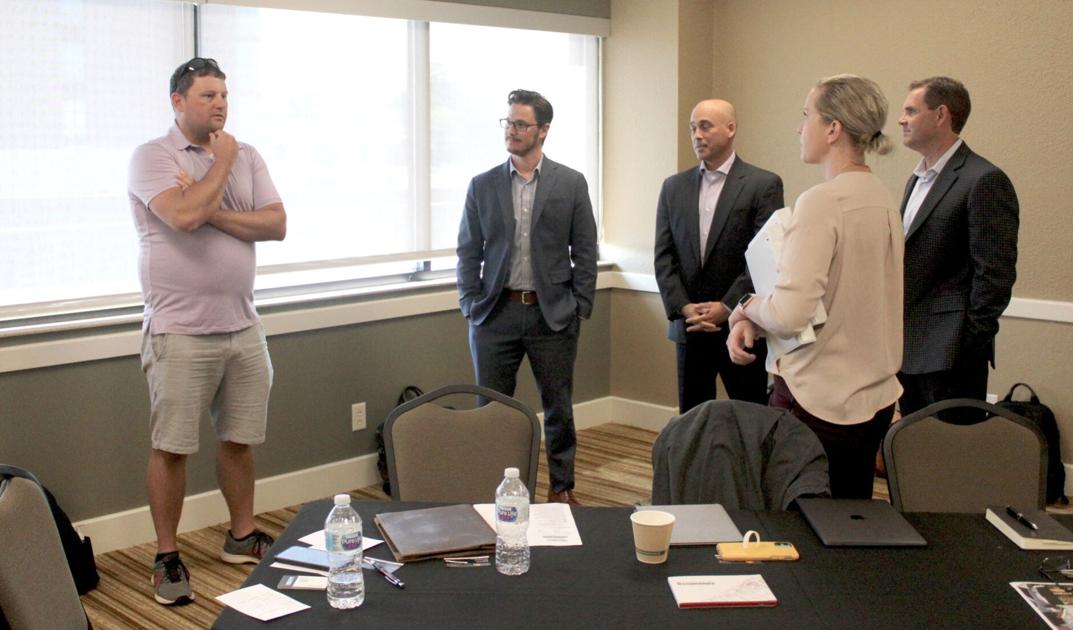 After hearing two companies make presentations Wednesday about how they can help the proposed Greenway sports complex, the McCracken County Sports Tourism Commission decided to begin negotiations with Sports Facilities Management as a third-party management company.
Sports Facilities Management — based in Clearwater, Florida — was the second of the two companies to present its case to the commission Wednesday at the Carroll Convention Center and the third company to make a pitch in two days. The commission heard from Vieste earlier in the day and Pinnacle Indoor Sports and Eastern Sports Management in a consolidated presentation on Tuesday.
The Greenway Sports complex is targeted to go on land where the Bluegrass Downs facility was as well as part of the current Stuart Nelson Park, both located along the north side of Park Avenue.
Greenway Sports indoor venues include the Carroll Convention Center and the Dome Pavilion.
The proposed outdoor sports complex is projected to have fields for baseball and softball as well as soccer. It has an estimated cost of $38 million to $42 million.
SFM's presentation included several of its administrators, including CEO and founder Jason Clement, vice president of marketing and business development Ashley Whittaker, national director of business development Jim Arnold, principal Evan Eleff and senior vice president of venue operations Michael Goody.
They each went over their own specialty areas and told the commission how they can help shape and build the sports complex while still keeping it as a venue that is unique to Paducah and McCracken County.
SFM has facilities in Elizabethtown as well as in Hoover, Alabama; Panama City Beach, Florida; Gatlinburg, Tennessee; Myrtle Beach, South Carolina; and several other locations.
After the presentation, the commission discussed its readiness to choose a company for the sports complex project.
The commission had considered having local management for the sports complex, but during its presentation, SFM pointed out that its SF Network has connections to several sports organizations like the U.S. Specialty Sports Association (slow-pitch softball, Perfect Game (baseball), RCX Sports (youth sports) and Halo Lacrosse.
"If we're going to manage it locally, we don't have the names and connections for these big-league sponsors to bring their events here," said commission member Meagan Musselman during the discussion session. "So, while we might get a higher percentage of profit from the ones we do bring, it's still not as large a dollar amount as a smaller percentage using a third-party company."
Told that it didn't seem like the commission was at that point in the process, Musselman agreed.
"I just brought it up because I think that if we're going to have the discussion about who to hire to get us through this construction and development phase, I think that, at some point, we're going to have to have the discussion: Are we going to hire a management company or are we going to try to manage it ourselves?" she said. "I think that, really, that conversation needs to be happening in tandem right now because it could rule out one of the three potential people that we're considering."
While Pinnacle-Eastern Sports Management and SFM declared their wish to take part in the management of the sports complex, Vieste said that it would not.
"Where the process is, once we decide who we want to go with, then we start that negotiation process," said commission Chairman Jim Dudley.
"Based upon the services that we want," added commission member Steve Ervin.
Commissioners commended SFM on its claim to have its last six projects come in on time and under budget.
The commission discussed its goals and what it wanted from an outside company.
"I'm just thinking in the back of my mind, big picture, 'Which one of these companies is the most qualified to meet all of our needs — presently and in the future?' and I'll go ahead and say it: Sports Facilities is, in my opinion, the one that can meet our needs presently and in the future, as far as what I've seen," said commission member Sam Neihoff.
Musselman said she believed the same company doing the design and construction should also manage the facility, adding she also thought it should be SFM.
Worksheets were handed out to commission members with weighted criteria, including experience with projects of a similar size and score, qualifications and experience with personnel to be assigned to the project, capability to meet critical timelines and budget requirements and current and projected workloads.
Commission members rated each company on each criterion on a scale of 1 to 10, then multiplied that rating by 0.4 for project experience, 0.3 for qualifications, 0.2 for meeting timelines and 0.1 for current workloads.
SFM was the top vote-getter from each commission member. Pinnacle-Eastern Sports Management was second overall and Vieste was third, meaning if negotiations fall through with SFM, the commission would begin negotiations with Pinnacle-Eastern.
"We decided to move forward with SFM," Dudley said after the meeting. "They just kind of hit on everything we were looking for as far as operational construction. We believe they set us up for success in the future."
Dudley said SFM's connection to the city's proposed Aquatic Center project as a potential management company for that project would not affect the sports complex project.
"(SFM) is obviously one of the leaders in sports management across the country," he said. "They've done huge complexes all over. They've got experience working in Kentucky, working in facilities close to here, so they bring great references and a great resume of sports management, so we're not concerned about (ties to the aquatic center) at all.
"…All three (companies) were great candidates, qualified and would have done a great job, but we just felt like SFM stood above them."
Dudley said the commission needed to select criteria for what it wanted SFM to do with the sports complex — including facility management and marketing — and then begin negotiations.
He added that the sports venues at the Carroll Convention Center may come up in discussions regarding management "down the road," as it is a part of the Greenway Sports family of new sports venues in McCracken County.
"All of those fall under our umbrella of Greenway Sports," he said, "but I see (Convention Center Executive Director) Michelle (Campbell) and her staff doing a great job here of maximizing the sports, keeping them fully operational and being very successful, so at this time, we're going to work with them and make sure that tourism knows what's going on."
Dudley said the commission would likely call a special meeting when negotiations are completed and a contract is written up.