Minnesota Adds NCAA Champ Alum Yu Zhou as Diving Graduate Assistant Coach
Courtesy: Gopher Sports MINNEAPOLIS – Minnesota Swimming & Diving legend Yu Zhou will be rejoining the Gophers this…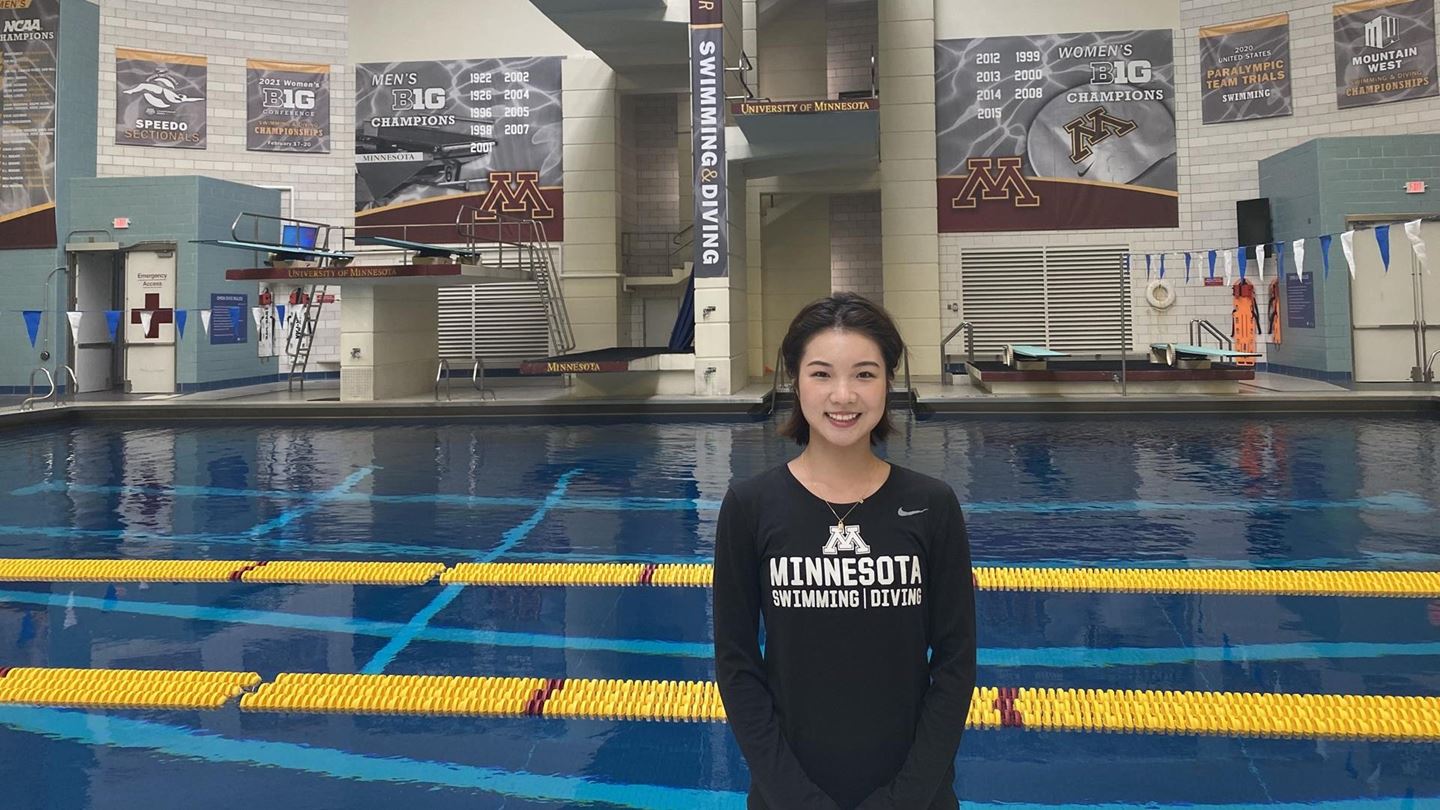 Courtesy: Gopher Sports
MINNEAPOLIS – Minnesota Swimming & Diving legend Yu Zhou will be rejoining the Gophers this season as a diving graduate assistant, as was announced by head coach Kelly Kremer Wednesday afternoon. Zhou officially began her role with the team on Aug. 31.
"It's been really exciting to be back," said Zhou. "It has felt so familiar going through campus and the pool again. It felt kind of strange too, with how much everything has changed, but it still feels like home. I'm just really excited to start my new degree and help the team this season!"
Zhou, who also goes by her chosen name "Shelly", dove for the Gophers from 2015-17 before graduating with her BA in Communication Studies. She then moved back to Hong Kong, China following graduating, where she spent time working as a mentor before eventually moving to Beijing, China. There, she started up a new sports business with the help of two partners where they focus on youth sports education, specifically water sports such as diving, swimming, water polo and synchronized swimming.
Now back in the states, Zhou is pursuing her masters of education in Sports Management, to help further her business back home in Beijing.
"It's great to have Shelly back with us again," said Kremer. "She's one of the best divers this program has ever seen, so having her here to help our team grow and excel over the next few seasons will be invaluable for our program."
In her three seasons as a Gopher, Zhou cemented herself as one of the best divers in Minnesota history, winning two NCAA titles and seven All-American honors while only finishing below fifth at the National Championships once.
She claimed her first national title in the three-meter during her sophomore season, while also taking bronze on the one-meter and fifth on the platform, earning her the honors of 2015 NCAA Diver of the Year. The following season, she then claimed a second and fifth place finish on the platform and three-meter, respectively, upping her career NCAA medal count to three. She would go on to claim her second national title as a senior in the three-meter, accompanied by a fourth place finish on the one-meter.
As dominant as her run on the national stage was, Zhou was even more successful at the conference level as she claimed an incredible seven individual Big Ten titles and never once finished outside of medal contention in any of her events. For the monumental run, she was awarded the Big Ten Women's Diver of the Year and Big Ten Women's Diver of the Championship in all three seasons.
Her first conference titles came in 2015, where she topped the podium in both the one and three-meter events while also finishing second on the platform. She would follow that performance up the following season with a sweep of all three diving events, becoming only the fourth woman in Big Ten history to do so.
Her senior season saw her once again take the one and three-meter crowns at the conference championships, giving her three straight in each and making her the only diver in Big Ten history to secure a three-peat in two events over the same three year span. She would also claim bronze on the platform the same year.
Zhou carried over her excellent success into the classroom as well, earning Academic All-Big Ten and CSCAA Scholar All-American honors in both her junior and senior seasons.