Murray McCormick is retiring after 43 years in the business and 38 with the Regina Leader-Post.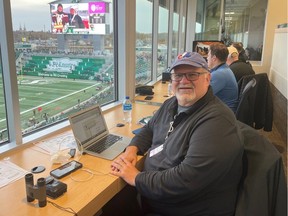 Article content
My thoughts are filled with Golf's Steak House and Memories Dining and Bar on my final day with the Regina Leader-Post.
Article content
I spent countless hours enjoying fine food and drink and even more laughs with my colleagues at those Regina restaurants. That's where myself, other members of the Regina media and visiting reporters gathered on the eve of countless Saskatchewan Roughriders' home games.
Article content
Those are among the memories that surface as I recall my last media dinner at Memories, the night before the 2022 Grey Cup game. That game was supposed to be my swan song as a sports writer with the Leader-Post. I had planned to retire shortly after the Grey Cup, capping my career by covering the CFL's biggest game.
Like so many athletes before me, I changed my mind. I felt I had another year left in me and I decided to head into my option year.
I've played out my option because my last day with the Leader-Post has arrived. I don't know how many days it has been since I was hired, but I know it has been 43 amazing years in the business and 38 with the Leader-Post.
Article content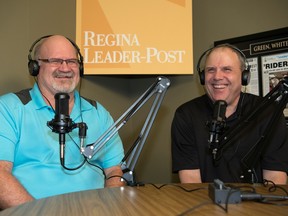 I'm looking forward to the next chapter of my life, swapping the labels of sports writer and Football Foodie for retiree. I'm not sure what the future holds, but I'm excited about the opportunities.
I depart knowing that I've never had a real job and have been so fortunate to do what I've done since 1980. That's when I started at the Simcoe Reformer, a newspaper in southern Ontario.
I landed my career job with clippings from the University of Waterloo paper and an interest in sports. Many thanks to Reformer sports editor Mike Baslaugh for taking a chance on a two-fingered typist.
I was transferred to Moose Jaw in 1982 as the Times-Herald sports editor. Three years later, sports editor Bob Hughes inquired about my interest in becoming a copy editor with the Leader-Post. Southern Saskatchewan's leading daily newspaper has been my home since answering that call in 1985.
Article content
I've covered it all with the Leader-Post. My beats have ranged from amateur to university sports to golf to curling to minor-league baseball and since 2008, an intense focus on the Riders. What a job it has been. What a life I've led and the places that I've been on my Leader-Post expense account.
I'm aware that I'm the last connection to an outstanding sports department that was run by Hughes, Gregg Drinnan and Rob Vanstone. Over the years we covered sports like no other paper in the country. I'm proud to have been part of those early days and so fortunate to have worked at the Leader-Post for as long as I have.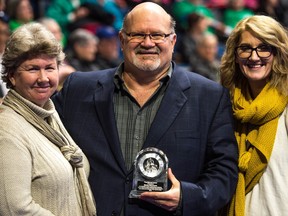 However, I'm more than a sports writer. My wife Marian and I have three amazing daughters (Megan, Mallory and Meredith) who have incredible husbands (Jeremy, Iain, and Brayden) and have produced three wonderful grandchildren (Finnley, Andrew and Mia) who I absolutely adore. My plans are to spend more time with them as they grow older. At least now I have that choice.
Article content
I'll really miss those dinners at Golf's and Memories. I trust that the tradition will continue without me.
I'll also miss the Football Foodie. We shared some incredible meals on the road over my years on the Riders beat, didn't we?
I'll truly miss the many friends I've made over the years. There isn't any replacing them, but I always have those memories.
Finally, thanks for welcoming me into your world and reading the Leader-Post in print or on the web. It was my pleasure.
The news seems to be flying at us faster all the time. From COVID-19 updates to politics and crime and everything in between, it can be hard to keep up. With that in mind, the Regina Leader-Post has created an Afternoon Headlines newsletter that can be delivered daily to your inbox to help make sure you are up to date with the most vital news of the day. Click here to subscribe.
Peter Godber shares connection with Rider Nation from 2007 Grey Cup game

Saskatchewan Roughriders roll out welcome mat for Trevor Harris
Check out our sports section for the latest news and analysis. Care for a wager? Head to our sports betting section for news and odds.