Match officials across the leagues have been asked to allow players to break their fast during evening matches over the holy period of Ramadan, Sky Sports News can exclusively reveal.
Many of the country's best footballers including Liverpool's Mohamed Salah, Manchester City's Riyad Mahrez and Chelsea's Ngolo Kante, are expected to fast this month and will abstain from eating or drinking during daylight hours during an important period of self-reflection for Muslims.
They will need to break their fast once the sun has set – and this will affect a number of players taking part in evening matches across the divisions over the next month.
Match officials have now been issued with guidance from refereeing bodies to allow for a natural pause in play and enable players to break their fast by taking on liquids or energy gels or supplements.
They have also been encouraged ahead of the kick-off to try and identify any players who may need to break their fast during the game, and where possible to agree a rough time for this to happen.
The Football Association and PGMOL (Professional Game Match Officials Ltd) have been contacted for comment.
Ramadan, which is the ninth month of the Islamic calendar and observed by Muslims worldwide as a month of fasting, prayer, reflection and community begins this year from Wednesday evening (March 22) until the evening of Friday April 21.
Two years ago, Sky Sports News revealed Leicester City's match with Crystal Palace had been paused mid-game to allow players to break their fast in what is believed to have been a Premier League first.
On that occasion, both clubs agreed pre-match with referee Graham Scott that there would be a pause in play to allow Wesley Fofana and Cheikhou Kouyate to break their Ramadan fast.
Vicente Guiata delayed taking a goal kick just after the half-hour mark to allow Fofana and Kouyate to take energy gels at the side of the pitch.
Fofana took to social media after the game, thanking Guiata, Palace and the Premier League for allowing him to break his fast, adding: "That's what makes football wonderful."
Mahmood featured in first-ever timeline and display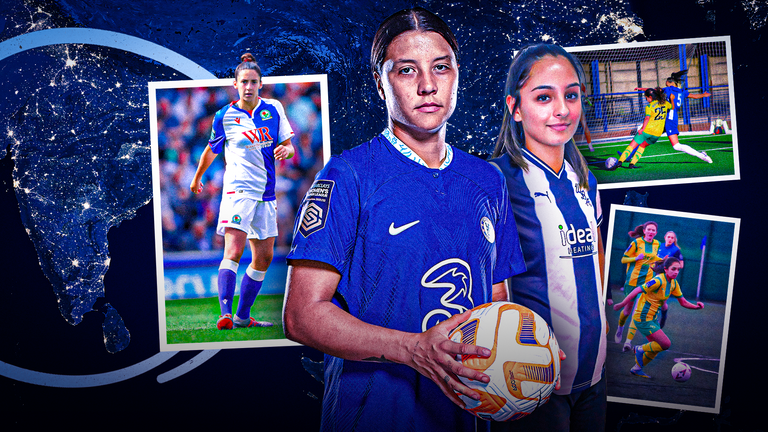 Meanwhile, West Bromwich Albion forward Mariam Mahmood is one of four role-model players players highlighted alongside a first-of-its-kind timeline documenting the history of South Asian heritage female players in the modern English game.
Marking the evolution of women's football in the Women's Super League era, the timeline highlights 20 current and former players from South Asian backgrounds, who have blazed a trail in the game in different leagues across Britain.
Mahmood, Millie Chandarana (Blackburn Rovers), Simran Jhamat (Coventry United) and Kira Rai (Derby County) all appear in the timeline and also have their stories showcased.
West Brom forward Mahmood told Sky Sports News: "It's an honour to feature in the timeline and to have my story showcased in this way.
"Education and bridging the gap in knowledge about South Asians in football remains a major issue. Our stories matter and I hope this raises positive awareness and encourages more children – particularly girls from South Asian backgrounds – to take up the game and enjoy playing football."
Derby County's Rai said: "To feature alongside some fabulous South Asian women as part of the history of the English women's game is a matter of huge pride for me, my family and my football club.
"We know women's football is not as diverse as it should be, and I want to play my part to help change that. I hope this inspires the next generation and gives talented girls who look like me the belief that they can also make it in the game."
Muslimah Sports Association (MSA) chair and FA National Game Board member Yashmin Harun added: "It's very important to understand the history of South Asian female players in the game and reflect on their journeys for us to get to where we want to get to in terms of making elite women's football more diverse and representative of the nation.
"These inspiring women are brilliant role models, who are changing the way we look at the game and are paving the way for the next generation to thrive. They are turning dreamers into believers and it's important to shine a light on them and celebrate their achievements."
British South Asians in Football
For more stories, features and videos, visit our groundbreaking South Asians in Football page on skysports.com and South Asians in the Game blog and stay tuned to Sky Sports News and our Sky Sports digital platforms.