Water Sports
Red Sea Global launches new Water Sports, Diving brands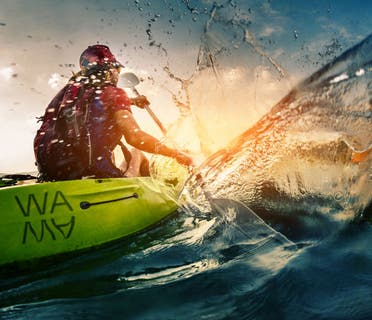 Red Sea Global (RSG), the multi-project developer behind the world's most ambitious regenerative tourism destinations, The Red Sea and Amaala, has revealed two new brands, WAMA and Galaxea, set to deliver incredible guest experiences at RSG destinations.
Last year the developer rebranded as Red Sea Global, promising the establishment of a series of RSG-owned subsidiary businesses that prioritized stringent sustainability standards while continuing to support the evolution of RSG developments into destinations that will play a critical role in the Saudi tourism sector.
For the latest headlines, follow our Google News channel online or via the app.
WAMA and Galaxea are the first two subsidiary businesses to be announced since then, ahead of The Red Sea welcoming its first guests this year.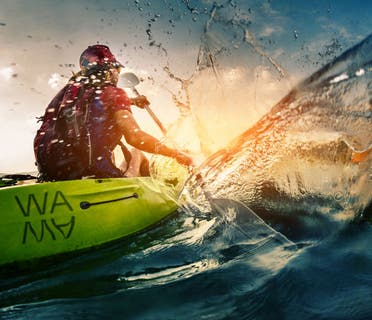 WAMA, named from combining the word 'water' in English and Arabic, is responsible for creating invigorating water sport adventures. (Supplied)
"Creating experiences is just as important as building hotels, and WAMA and Galaxea are sure to deliver unforgettable adventures for our guests. Whether it's kayaking, canoeing, stand up paddleboarding, foiling, kite surfing, sailing, or exploring the Red Sea's incredible submarine world, WAMA and Galaxea will create extraordinary moments and beautiful memories that last a lifetime," said John Pagano, Group CEO of Red Sea Global.
"What's more, these brands have been created with sustainability at their core and will continue to build on our ambition to deliver a regenerative approach to tourism development and operations. It is our hope that eventually they will become standalone brands operating at destinations around the world."
In line with this approach, Galaxea is working closely with Saudi Water Sports & Diving Federation, alongside PADI International to ensure that all diving facilities operated by Galaxea lead in regenerative tourism standards and set the blueprint for future diving development around the world.
WAMA, named from combining the word 'water' in English and Arabic, is responsible for creating invigorating water sport adventures, from Stand-up Paddleboarding through the destination's mangrove forests, to sailing the Red Sea's soft swells.
Galaxea is named after a bold and vibrant coral prevalent in the Red Sea and will offer diving experiences that let guests explore life below the water.
Last year, an 11-month long research study of the Al Wajh lagoon revealed an exceptionally rich diversity of habitats, flora, and fauna. These include a significant number of endangered and critically endangered species such as the Halavi Guitarfish, Hawksbill Sea Turtle, and Sooty Falcon, as well as a thriving, eight-meter-high single coral colony estimated to be around 600 years old.
It is hoped that future divers will also be able to explore an 18th century 'merchantman' shipwreck which is currently the most intact and best-preserved wooden shipwreck in the Red Sea. The site boasts a spectacular cargo of jars, porcelain, and spices, a testament to the history of trading activities the region.
Rosanna Chopra, ED of Destination Development, explained, "When we consider people, planet, product, and process alongside visitors, community, and marine life, we must look to how we protect these best while ensuring our environment can still flourish. By owning and operating water sports and diving activities we can grow in line with the strategy defined by RSG and implemented across all our destinations."
"Through the creation of strong brands, we will enjoy dynamic relationships with industry partners, federations, brand partners, activity specific groups and event IP's. We will continuously look to the latest innovations both in natural power and hydro and electric powered equipment and hope to become a hub and a home for sport to grow."
RSG is currently hiring for roles across WAMA and Galaxea and expects to employ more than 250 people by 2026. This includes Sailing and Water Sports Instructors, Divemaster's, technicians and Dive Boat Captains, plus roles for those entering the industry for the first time wishing to discover a new career at the highest level of service and standard.
Successful candidates will have the opportunity to live at Turtle Bay, the brand-new sustainable community RSG created for employees and their families.
"When we first announced The Red Sea, we promised exciting career opportunities in new industries for Saudi Arabia. WAMA and Galaxea mark a new phase in delivering on that promise, and already we're seeing huge interest from international talent as well as young Saudis looking to start their careers in this sector," added Pagano.
RSG recently revealed an exciting partnership with The Ocean Race, born of a shared commitment to ocean health and vision to drive regeneration of life above and below water.
The Ocean Race has provided the ultimate test for sailing teams since 1973. Known as 'sailing's greatest round-the-world challenge', it is widely recognized as the pinnacle of achievement for sailors across the world and has created legends of the sport throughout the years.
The partnership is intended to not only drive benefits for the natural environment, but to help inspire the next generation of Saudi sailors, promoting a new sport to a Kingdom that has enjoyed a crucial and historic relationship with the sea for over 4,000 years.
Three resorts at The Red Sea will open this year along with the first phase of the Red Sea International airport. A further 13 hotels will open in 2024, and upon full completion in 2030, the destination will comprise 50 resorts, offering up to 8,000 hotel rooms and more than 1,000 residential properties across 22 islands and six inland sites. The destination will also include luxury marinas, golf courses, entertainment, F&B, and leisure facilities.
Read more:
Inside Saudi Arabia's Red Sea project
Saudi Red Sea Project will open to visitors in 2023, showing new side of the Kingdom
Messi flies to Saudi Arabia after becoming tourism ambassador, goes on Red Sea trip