Current Viral Sport
Savannah Bananas Entertain Their Ever-Growing Fanbase With Yet Another Viral On-Field Moment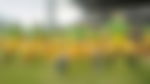 The Savannah Bananas are at it once again! Pleasing the fans with their soothing yellow uniforms and breaking out into dance in the middle of the field. The Bananas have re-invented baseball as the favorite pastime of America. In a world of social media, sports has taken a slight backseat. The difference may not be apparent to the casual onlooker, but historians have long studied the growth and decline of an interest in sports. And currently, things are not looking so hot for baseball.
With long games and longer innings, this beloved sport has lost some of its dedicated fanbase. But that is exactly what the Savannah team is here to rectify. Ever since debuting in 2016, the Bananas have revolutionized the game of baseball in their own way. And once again, they're saving everyone with song and dance.
The Savannah Bananas line dance up to the plate
ADVERTISEMENT
Article continues below this ad
Dancing and baseball. Who would've thought the two would mix so well? Jesse Cole, apparently. The young owner of the Bananas was inspired to bring dance to his team after getting bored at a baseball game. For a sport that came into existence centuries ago, Cole is now making full use of the tools available in our time. TikTok is currently the number one app in the world, and the Bananas are taking full advantage.
Their official Twitter posted a video of the team supporting Eric Jones as he steps up to bat. But unlike most batters, Jones doesn't walk – he dances! Specifically, line dances! That particular dance isn't one a person can do alone, so while Jones makes his moves, the team follows him at a safe distance behind. And Jones doesn't miss a powerful swing when he steps up to the mound!
The Bananas may just be more famous than the Yankees
ADVERTISEMENT
Article continues below this ad
The Savannah team's popularity is off the charts. The internet loves out-of-the-box ideas and the Bananas have them in hordes. From exceptional team dances to even more well-known players, this baseball team is rivaling one of the most well-known names in the world, the Yankees. People just can't help loving them.
DIVE DEEPER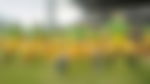 "From the beginning, it was simple: We exist to make baseball fun," Cole recently told MLB.com. "The name of our company is Fans First Entertainment."
ADVERTISEMENT
Article continues below this ad
To say it's a revolution would be underrated!
WATCH THIS STORY – How Savannah Bananas' Pioneer Broke Baseball's Unwritten Rules to Turn A $1,800,000 Debt to Miniting Over $200,000 Per Game