Shop 55% Off Leggings And Sports Bras
Courtesy When it comes to activewear that's just as stylish as it is functional and…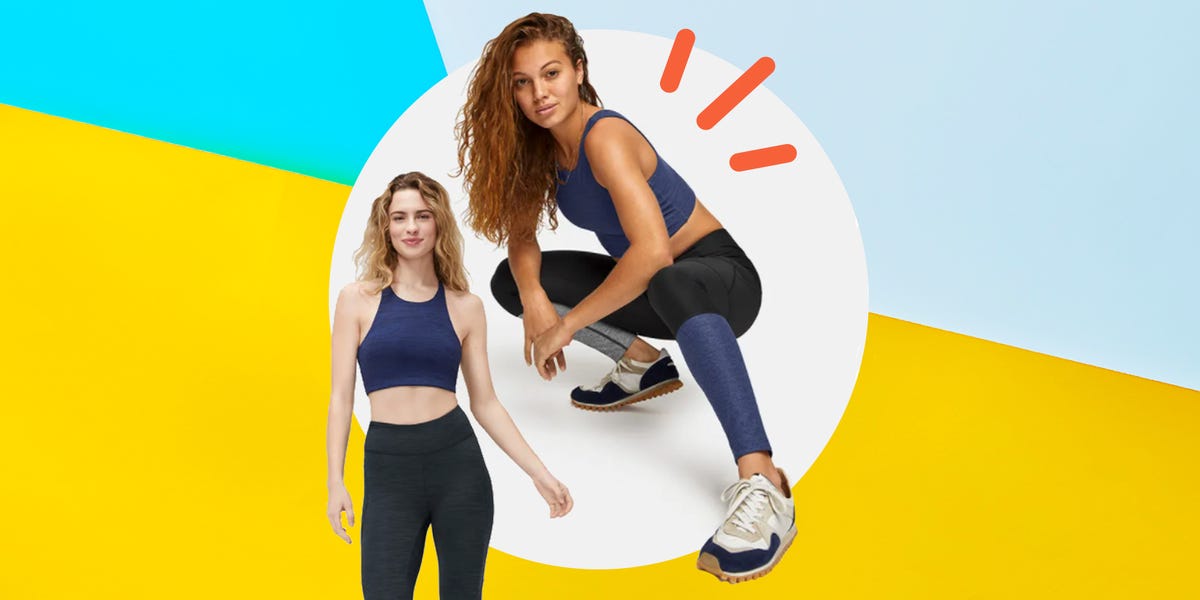 Courtesy
When it comes to activewear that's just as stylish as it is functional and environmentally conscious, Outdoor Voices reigns supreme. As someone who has literally been wearing Outdoor Voices' TechSweat leggings (ICYMI, TechSweat is the brand's breathable, butter soft, sweat-wicking, supportive fabric) nearly every day for the past 18 months, I have zero shame in admitting I check their site for discounts often.
Currently, the sale section is looking better than ever. Right now, you can save up to 55 percent on the brand's trendy color blocked leggings, ultra comfortable sports bras, cozy sweats, and stretch joggers. I immediately filled my e-cart with all of those items and more—and I encourage you to do the same. Every trendy wardrobe needs some of Outdoor Voices' biker shorts, whether you're planning on working out in them or just pairing them with a sports bra and denim jacket for brunch.
Though the brand regularly has its OV Extra sale section, it's not everyday it's filled to the brim with outstanding deals. But, hurry! With deals this good, they won't be around for much longer, so you might want to add these finds to your cart sooner rather than later.
Advertisement – Continue Reading Below
1
Move Free 3/4 Leggings
Outdoor Voices
outdoorvoices.com
$88 $39 (55% off)
With a stretchy, buttery-soft fabric and flexible waistband, this pair of leggings will feel like a second skin. (And, thanks to the cool color-blocked detailing, they look good, too.)
2
Adjustable Face Mask
Outdoor Voices
outdoorvoices.com
$28 $14 (50% off)
Whether you want to give yourself some extra peace of mind at your next outdoor workout or need to adhere to your Pilates studios' COVID protocols, these lightweight, breathable masks are bound to get a lot of mileage.
3
Pickup 1/4 Zip Sweatshirt
Outdoor Voices
outdoorvoices.com
$88 $54 (35% off)
Once fall hits, this layer will become your go-to for those brisk, outdoor jogs. It's stylish enough to pair with jeans for a casual lunch, too.
4
Zoom 7/8 Leggings
Outdoor Voices
outdoorvoices.com
$98.00
$98 $69 (30% off)
Decked out with moisture-wicking fabric and stealth pockets, this pair of leggings keep it all together. These were specifically designed to lift and sculpt to really highlight the gorgeous contours of your bod, too.
5
Doing Things Bra
Outdoor Voices
outdoorvoices.com
$58 $39 (30% off)
Nobody needs an underwire digging in to their ribcage while working out. Instead, give your girls some extra love with this extra comfy medium-support sports bra.
6
Dipped 7/8 Legging
Outdoor Voices
outdoorvoices.com
$44.00
$78 $34 (55% off)
This pair is decked out with compression fabric, giving your muscles the support they need. The cool pastel colors are uniquely stylish, too.
7
All Day Sweatpants
Outdoor Voices
outdoorvoices.com
$88 $54 (35% off)
Made with Outdoor Voices' cozy CloudKnit material, these sweats will transition nicely from your Zoom meetings to the couch and then sunset yoga afterwards. 
8
Zoom 10″ Short
Outdoor Voices
outdoorvoices.com
$68 $34 (50% off)
The bike shorts trend isn't leaving anytime soon, so why not spice up your rotation with this pretty, purple pair? They'll look like you put way more effort in to your outfit than you really might have. Simply pair with a white tee and sneaks.
9
Ready Set Longsleeve
Outdoor Voices
outdoorvoices.com
$58 $39 (30% off)
Fall's right around the corner, so you might as well stock up on long-sleeved workout tops. This one from Outdoor Voices has a special moisture-wicking fabric to keep you dry and cool 365 days a year, too.
10
Move Free Crop Top
Outdoor Voices
outdoorvoices.com
$48.00
$48 $34 (25% off)
Found: the perfect cross between a workout top and sports bra. Plus, the cool green color is a nice way to mix up your all-black rotation.
This content is created and maintained by a third party, and imported onto this page to help users provide their email addresses. You may be able to find more information about this and similar content at piano.io
Advertisement – Continue Reading Below