Outdoor Sports
Sport for Life offers unique outdoor education experience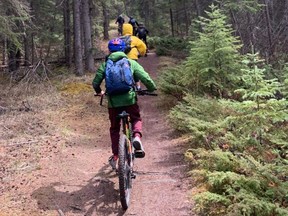 Article content
Students at Clover Bar Junior High will soon have a chance to enlist in Sport for Life — the kind of program that promises to be remembered for the rest of their lives. 
Article content
A program that is billed as enhancing students athletically and academically, Sport for Life is offered from Grades 7 to 9 at the school, with new and returning students able to apply for the class during the registration process, beginning Feb. 1. 
"The Sport for Life program introduces students to a variety of sport and recreation activities in school, to cultivate their physical prowess, develop their leadership qualities and build a foundation for all students to pursue their own lifelong sport and wellness goals," stated an Elk Island Public Schools release. "Several activities offered include anything from martial arts, scuba diving and indoor climbing to first aid training, gymnastics and yoga." 
The diversity of the program is definitely part of the attraction. 
Article content
"I love the program! I get to try so many sports," said Cash Gist, a Grade 8 student at Clover Bar. "Sport for Life is awesome for me personally because I can't sit still. The field trips away from school are my favourite part—I get to learn new skills, hang out with my friends and see new places." 
The program also looks to develop habits and attitudes for an active and healthy lifestyle. The Sport for Life curriculum includes topics in physical education, career and technology foundations, and health. Students in the program study nutrition, personal development, sports injuries, psychology, sports-related careers and more. 
"We challenge our students physically, but we also foster them mentally to be intelligent and considerate players," said Braden Kuny, a Sport for Life teacher at Clover Bar. "They form close bonds with their classmates as they tackle obstacles together in all kinds of environments—snow-covered mountains, aerial parks and velodromes only scratch the surface." 
Article content
The Sport for Life program is based on the Canadian Sport for Life model, a movement to improve the quality of sport and physical activity in Canada through improved athlete training and better integration between all stakeholders in the sport system.  
"Our ultimate goal is to develop students' physical literacy," said Sara Haring, another Sport for Life instructor at Clover Bar. "Physical literacy encompasses the building blocks of a healthy lifestyle, from fundamental movement skills to the confidence and motivation to seek out activities. Students with comprehensive physical literacy become healthier, active adults." 
twitter.com/Realshanejones