State mandates masks, then reverses course | Sports
Tuesday afternoon turned into a day of consternation, confusion and frustration for prep coaches and…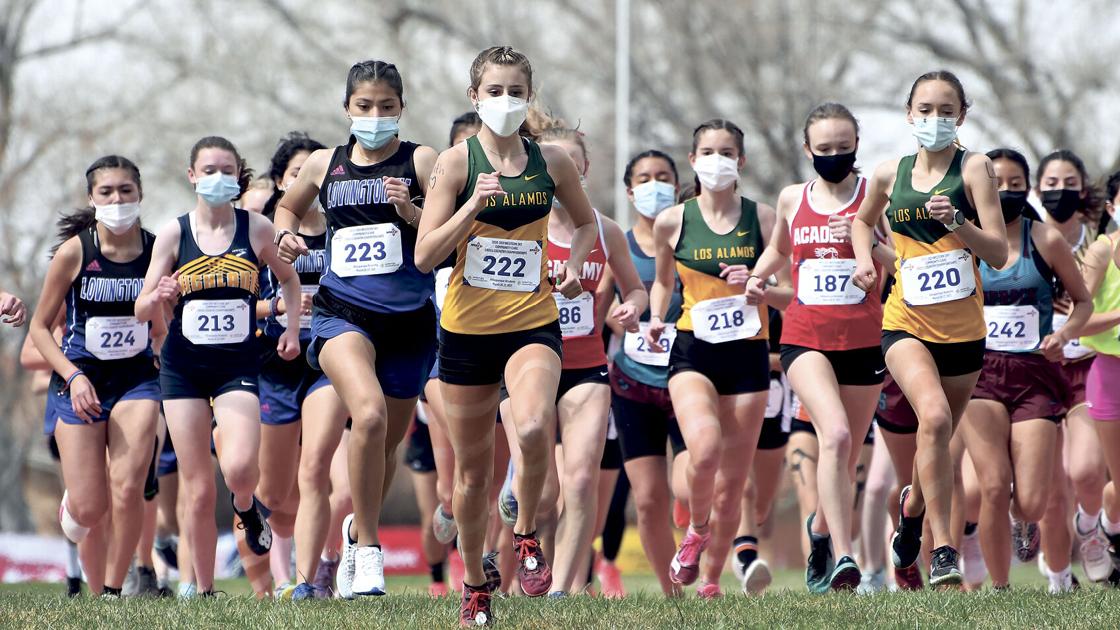 Tuesday afternoon turned into a day of consternation, confusion and frustration for prep coaches and athletes across New Mexico as the state's Public Education Department updated guidance for athletic competition — only to update them yet again by the evening.
The department outlined a mask-wearing requirement in its updated COVID-19 response toolkit for public and charter schools released Tuesday morning for all athletes, coaches and spectators for outdoor sports and games.
It would have forced football and soccer players, as well as cross-country runners, to don facemasks while practicing and competing for the fall season — just like they did for their condensed seasons in the spring.
However, the department released updated guidance at around 5 p.m., as department Secretary designate Kurt Steinhaus announced that it recommends mask usage during outdoor events but does not require them.
Carolyn Graham, spokeswoman for the Public Education Department, said there was a "miscommunication" regarding the updated guidance, and a revised toolkit for schools was in the works. She did not elaborate on how the miscommunication took place.
"The NMPED goal is about keeping students as safe as possible, while allowing them to participate at the level they're used to," Graham wrote in a text message.
The sudden reversal left some coaches exasperated at the changing mandates.
"I don't understand it," Santa Fe Prep head girls soccer coach Rennae Ross said. "I don't understand it because the science [regarding athletes wearing masks while competing outdoors] isn't there."
St. Michael's athletic director Kevin Garcia was more succinct about the update.
"I am very happy for the kids," he said.
Marc Ducharme, the athletic director for Santa Fe Public Schools, said he will talk to Superintendent Larry Chavez on Wednesday morning about what the district intends to do about the department's recommendation regarding masks.
However, he said the Public Education Department deserves some credit for changing the mask mandate.
"Everything changes," Ducharme said regarding the state's updated guidance. "It used to be every two weeks, now it's four hours. But people are going to make these decisions and re-think them and say, 'You know what, I was wrong.' Maybe we should accept somebody owning a mistake and reversing track."
Santa Fe High head football coach Andrew Martinez said his players didn't gripe about the mask mandate prior to football practice, but he sensed some of them were still processing the information.
"It was almost like 'I didn't really hear that,' " Martinez said. "It was like, 'I'm acknowledging it, but I just don't want to deal with it right now before practice.' "
When the Public Education Department initially announced its updated guidance for athletics, it also stated schools would be subject to a color-coded system based on the Center for Disease Control and Prevention's COVID-19 county-by-county transmission rate dashboard that would determine their mask status. Schools in the red or orange category would require athletes in all sports, regardless of whether they were indoor or outdoor, to wear masks.
Currently, all participants, coaches and spectators for indoor sports must wear masks.
Schools in counties that had moderate (yellow) or low transmission rates could have their athletes compete without masks. The Public Education Department also determined that sports considered high risk for COVID-19, which included football, volleyball, wrestling, baseball and basketball, would be required to wear masks regardless of their respective county's transmission rate status. The updated guidance also gave school districts and charter schools leeway as far as limiting spectator capacity for games, plus keeping participation to athletes who are vaccinated.
Ducharme said it is possible Santa Fe Public Schools opts to require masks for all spectators, media and coaches for outdoor events, which was also a part of the Public Education Department's initial updated guidance schools received Tuesday morning. That was the case in Taos, where St. Michael's played the Tigers in both team's football season opener Friday. Ducharme expressed some disappointment at the department's reversal about mask mandates, especially since he had just purchased signs informing the public of the mask mandates.
"I feel confident that our coaches and the systems that our school district has put in place allows our athletes to participate in the safest environment possible," Ducharme said. "While I worry about transmission — and trust me, it's always at the forefront of my mind — is it going to stop me from living and inspiring our student-athletes to participate? No."