Tasting Notes: Local chocolate scientists makes health bars
Breadcrumb Trail Links Food Plus Fort Saskatchewan's Tumbler & Rocks to provide Porter Airlines with…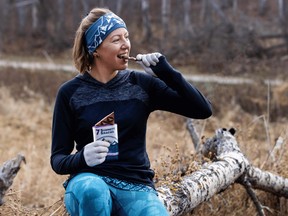 Plus Fort Saskatchewan's Tumbler & Rocks to provide Porter Airlines with ready-to-serve cocktails and Chinatown Dining Week returns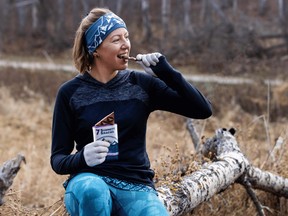 Reviews and recommendations are unbiased and products are independently selected. Postmedia may earn an affiliate commission from purchases made through links on this page.
Article content
In 2019, Kristyn Carriere woke up with a fully formed idea in her head.
Article content
"My sister, who is a triathlete, and I had been kicking around the idea of different fuel options for athletes for a while," says the Edmonton-based runner, food science consultant and entrepreneur. "She asked if we could eat chocolate when we do our sports, and thinking critically I realized that yeah, chocolate has a wonderful balance of sugar and fat. It's the perfect fuel for endurance sports."
Article content
A few years later, Carriere was sleeping when she was jolted awake early in the morning by the notion to call the idea of an energy bar percolating in her head Seven Summit Snacks. As she found out a few hours later, it was at the same time that her mountain-climbing partner Robin died after reaching the summit of Mount Everest. She now had a brand and a purpose, activated by a supernatural push from beyond.
Article content
Carriere was living in the U.K. at the time, but she moved home and with her sister Leanna began implementing their ideas near the end of 2019. The pandemic changed their plans to an online platform rather than the initial direct to stores idea, and they took advantage of an ATB crowdfunding program to push forward. With the general uptake of outdoor sports by people weary of quarantining, Seven Summit Snacks began to take off.
The company's classic bar is ethically-sourced chocolate combined with superfoods like honey and coconut butter. There are no artificial flavors. The dark chocolate Everest has Himalayan rock salt and goji berries added, while the Aconcagua combines golden berries with cocoa nibs into a Peruvian dark chocolate. Prefer a milk-chocolate base? The Denali provides just that with the added flavour of peanut butter and jam.
Article content
The only real issue anyone might have about the bars, which are now available widely in Western Canada and in Edmonton at places like United Cycle, Maven & Grace, Cranky's Bike Shop and Little Brick Cafe, is the skepticism about chocolate being appropriate as a healthy energy snack.
"That is one of our biggest challenges for sure," admits Carriere, a self-professed "chocolate scientist" who has worked for years as a food scientist and consultant, including stints with several large chocolate companies in Europe.
"People have this conception that chocolate is a treat, and too much is bad for you. Having too many bananas is also not very good for you either. But those easy to reach for carbohydrate gels are pure syrup, and energy chews are basically candy. There's still some sort of a mental barrier about going for chocolate, which is a perfect fuel."
Article content
The battle plan for 2023 is to go into more traditional ways of selling food products, placing them in larger supermarkets and natural supermarkets. They've also been chosen for a mentorship program called the Stacey's Rise Project that not only provides them with a $15,000 grant but help in tailoring their message about Seven Summit Snacks.
"It's an organization that is supporting women with a product-based business, so that seems to be a sweet spot for us," she says. "Everything seems to be coming together for us."
Tumbler & Rocks
Porter Airlines will soon be elbowing its way into the cross-Canada airline business, and the Fort Distillery will be tagging along for the ride.
Literally, as the Fort Saskatchewan-based company's ready-to-serve craft cocktails, Tumbler & Rocks, have been added to the airline's alcohol options for their upcoming schedule of long-haul domestic flights, which starts in mid-February. You've likely seen them in several Edmonton liquor stores, venues, and restaurants, hand-sized, 100 ml portions of old-fashioneds, martinis, and margaritas. As far as Fort Distillery owner Nathan Flim can tell, this is a first for any Alberta company.
Article content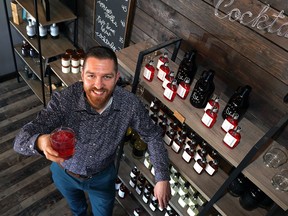 "I mean, there's a couple of airlines in the U.S. working with some of our American competitors, but I've never seen an old fashioned on a plane in Canada before."
Flim notes that it's a huge struggle to deal with Canada's antiquated liquor laws and that hopefully, the deal will go some way towards changing them.
"It gets us across Canada, and we can go to the places like the Liquor Control Board of Ontario and point this out," he says. "It's one of the things that hopefully let smaller distilleries like ours stand up against the big guys. A lot of our focus has been on expanding in the States, but this deal puts us back into looking at Canada, which is where I want to work."
Chinatown Dining Week
With the Lunar Year of the Rabbit now underway, Chinatown Dining Week kicks off Thursday and runs through Feb. 5. This year, 15 establishments are taking part in the annual event, which celebrates the diverse culinary offerings available in the Chinatown area. Participating eateries include The Moth Café, Lee House Korean Restaurant and Padmanadi, all offering $10 to $20 dishes. Check edmontonchinatown.ca for more information.