Water Sports
The Ultimate Guide To Myrtle Beach & Things To Do
Myrtle Beach is one of South Carolina's top vacation destinations, and there are so many reasons why. From the glorious and refreshing Atlantic waters to the ample sand that seems to stretch on forever, Myrtle Beach is a beachgoer's paradise. But there is more than just the beach in this coastal city.
Myrtle Beach has one of the most fun boardwalks in the country, with great food and live entertainment at every turn. There's also golf, water sports, and even one of the tallest Ferris wheels in the country. It's no wonder why Myrtle Beach is such a popular place to visit throughout the year.
Best Time To Go
Myrtle Beach at sunset.
Myrtle Beach is a great destination throughout the year. Each season has a different appeal, and each has its own pros and cons. Below are reasons why Myrtle Beach is unique and special in all four seasons.
Spring
Spring marks the start of tourism in Myrtle Beach. It is a great way to beat the crowds and the summer prices. Be mindful that some establishments might still be closed in March and April, with most things getting into full swing by Memorial Day weekend. Keep in mind the water temperatures will be frigid this time of year, but beach walks are ideal.
Summer
Summer is by far the best time to enjoy all the beauty and bounty that Myrtle Beach has to offer. With the weather in the 80s and low 90s almost every day is a perfect beach day, and the water temperatures are perfect for swimming activities and various water sports.
There are, however, both pros and cons to visiting Myrtle Beach in the summer.
The perfect summer weather conditions also bring less-than-ideal crowds. Expect the beaches to be packed with people fighting for space in the sand, as well as difficult parking.
In addition to space issues, prices also reach their height in the summer. Everything from hotels to food to rental equipment reaches peak level in the summer.
Fall
For those looking for pleasant weather without crowds, early to mid-fall is ideal. There are far fewer crowds and hotel prices tend to go down starting after Labor Day weekend. This means a cheaper trip, but fewer days of tanning. This time of year is wonderful for lounge chairs on the beach and long beach walks.
Winter
Winter and beaches don't often go hand-in-hand, but it is certainly possible to visit Myrtle Beach in the winter. In fact, some argue it is better to visit Myrtle Beach in Winter over the summer.
For one, there are no crowds. There are also often great hotel deals.
Some restaurants and bars are closed in the winter, but those that are open take on a more local feel in these months.
Myrtle Beach is also host to several festivals in the holiday season, including the visually captivating Night of A Thousand Candles at Brookgreen Gardens.
Related: 10 Things To Expect When Visiting Myrtle Beach in Off-Season
What To Know When Visiting
Underneath the dock at Myrtle Beach Boardwalk
Whether traveling as a family, as a couple, or as a solo traveler, there are a few important things to note about a trip to Myrtle Beach. For one, when looking into booking a trip, keep in mind that timing is everything.
Not only does the time of year change what activities are available, but it also changes the room rates.
Related: 10 Top-Rated Things To Do In Myrtle Beach
Myrtle Beach is a wildly popular vacation destination in the summer, so booking well in advance is encouraged. This is especially true when renting a vacation home, as inventory tends to dwindle as the spring approaches. The moral of the story here is to book in advance.
Also remember that while Myrtle Beach does not offer direct sunset views (the sun sets in the West, after all), it does offer a magnificent sunrise. Be sure to catch at least one glorious sunrise while visiting.
Best Ways To Get Around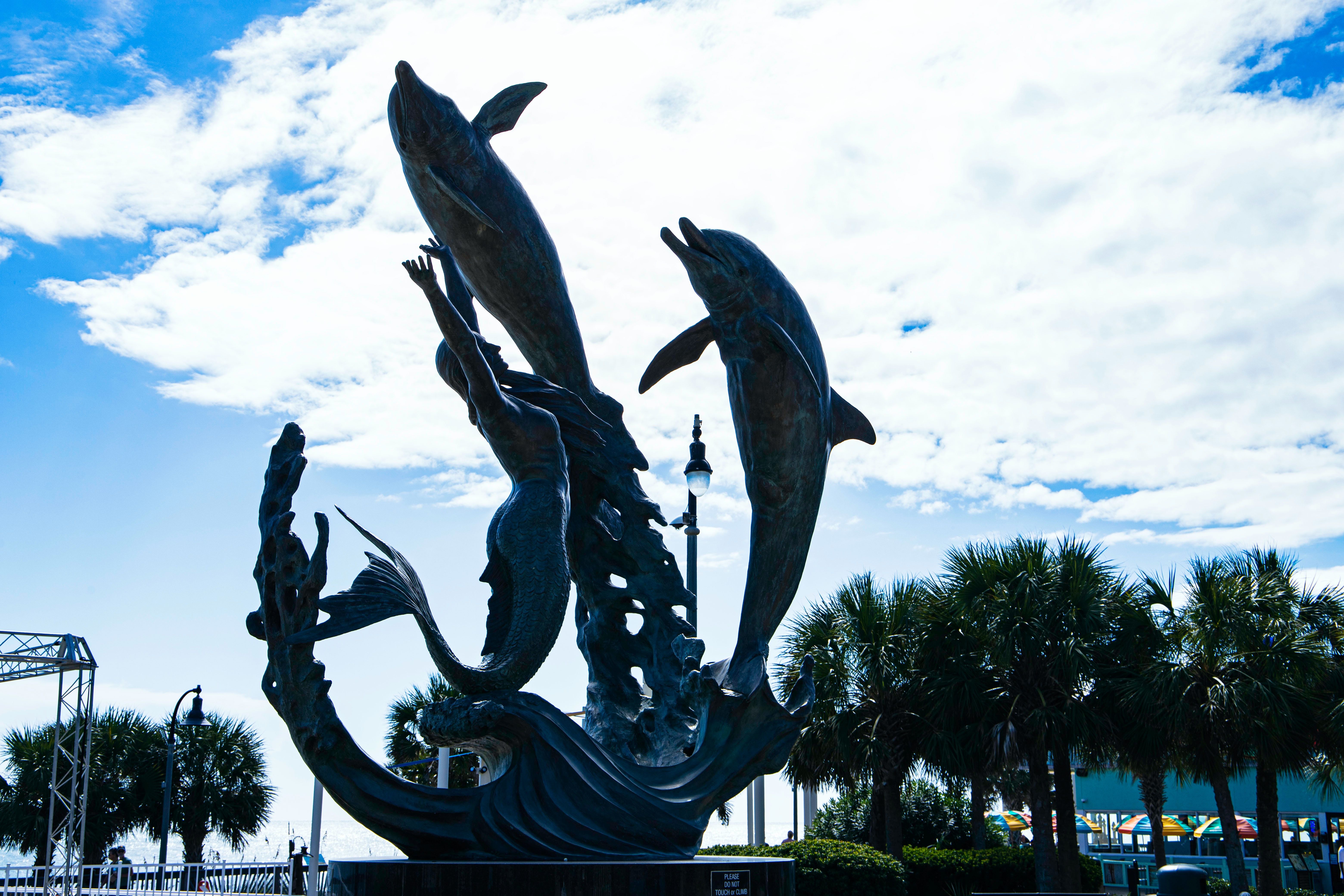 Dolphin and mermaid statue in Myrtle Beach.
When arriving in and traveling around Myrtle Beach there are several options available. For those not interested in using a car, it is entirely possible to arrive at Myrtle Beach International Airport and take a car service to a beachfront hotel.
From there much of the downtown and beach area is walkable, with many of the top sites and attractions close by.
If the trip itinerary calls for a venture beyond the immediate boardwalk vicinity, then car or public transport is required.
Public Transportation
Coast RTA Public Transit offers 8 different bus routes that cover the majority of the Myrtle Beach and Grand Strand area.
The bus also offers transportation into the hub of Myrtle Beach for those who don't want to spend lots of money on parking, or battle for a parking space.
Getting Around Myrtle Beach By Car
Renting a car or arriving by car is the most popular way to explore Myrtle Beach. Having a car allows visitors the chance to explore the many beaches to the north and south of Myrtle Beach, many of which are far less crowded than Myrtle Beach itself.
For those interested in golfing or visiting more remote destinations, a car is best. Keep in mind parking in popular areas in the peak summer months can be challenging and expensive.
Where To Stay In Myrtle Beach
Budget-Friendly
Dayton House Resort
2400 North Ocean Blvd, Myrtle Beach, SC 29577-3243
Oceanfront resort with 2-acre lounge lawn complete with tanning chairs and umbrellas. On-site restaurant, beachfront pool, on-site restaurant, lazy river.
Several room types including ocean view rooms, family suites and more affordable lower-tier rooms.
Starts at around $100 per night
Mid-Level Accommodations
Dunes Village Resort
5200 North Ocean Boulevard, Myrtle Beach, SC 29577-2539
Hotel has its own indoor water park and outdoor pool, multiple on-site dining options. Steps from the beach. Great for families, as there is a kid zone and family-oriented activities.
Several room types to choose from, including suites with full kitchens, balconies and more.
Starts at just over $100 per night
Coral Beach Resort & Suites
1105 South Ocean Boulevard, Myrtle Beach, SC 29577-4538
Laid back ocean front resort with various recreation and activity rooms. Fitness center, multiple pools, ocean view rooms.
Only hotel in Myrtle Beach with an on-site bowling alley! Total of 10 pool attractions, with both outdoor and indoor pools and a lazy river.
Starts at just over $100 per night
Related: 10 Reasons To Book Kingston Resorts For Your Next Myrtle Beach Getaway
Top-Tier Hotels And Resorts
Marriott Myrtle Beach Resort & Spa at Grande Dunes
8400 Costa Verde Dr, Myrtle Beach, SC 29572
4-Star hotel offering Spa Services, tranquil pool setting in premium ocean front location.
Great for families and couples alike. Emphasis on relaxation with its spa services.
Starts at around $199 per night
Related: 10 Reasons To Book Kingston Resorts For Your Next Myrtle Beach Getaway
Hilton Grand Vacations Club Ocean Enclave Myrtle Beach
1600 N Ocean Blvd, Myrtle Beach, SC 29577
This is a luxe all-suite hotel in the Hilton Family offering ocean view rooms, dining and ocean views.
All rooms are suites, several tiers available including rooms with full modern kitchens available.
Deals appear to drop as low as about $180 per night
North Beach Resort & Villas
719 North Beach Boulevard Suite 3, North Myrtle Beach, SC 29582
60-acre luxury resort in North Myrtle Beach with spa, fitness center, fine dining restaurant, golf course and more.
Exclusive and vast property complete with golf course, luxurious swimming pools with swim-up bar.
Rates appear to average about $185 per night
Where To Eat And Drink In Myrtle Beach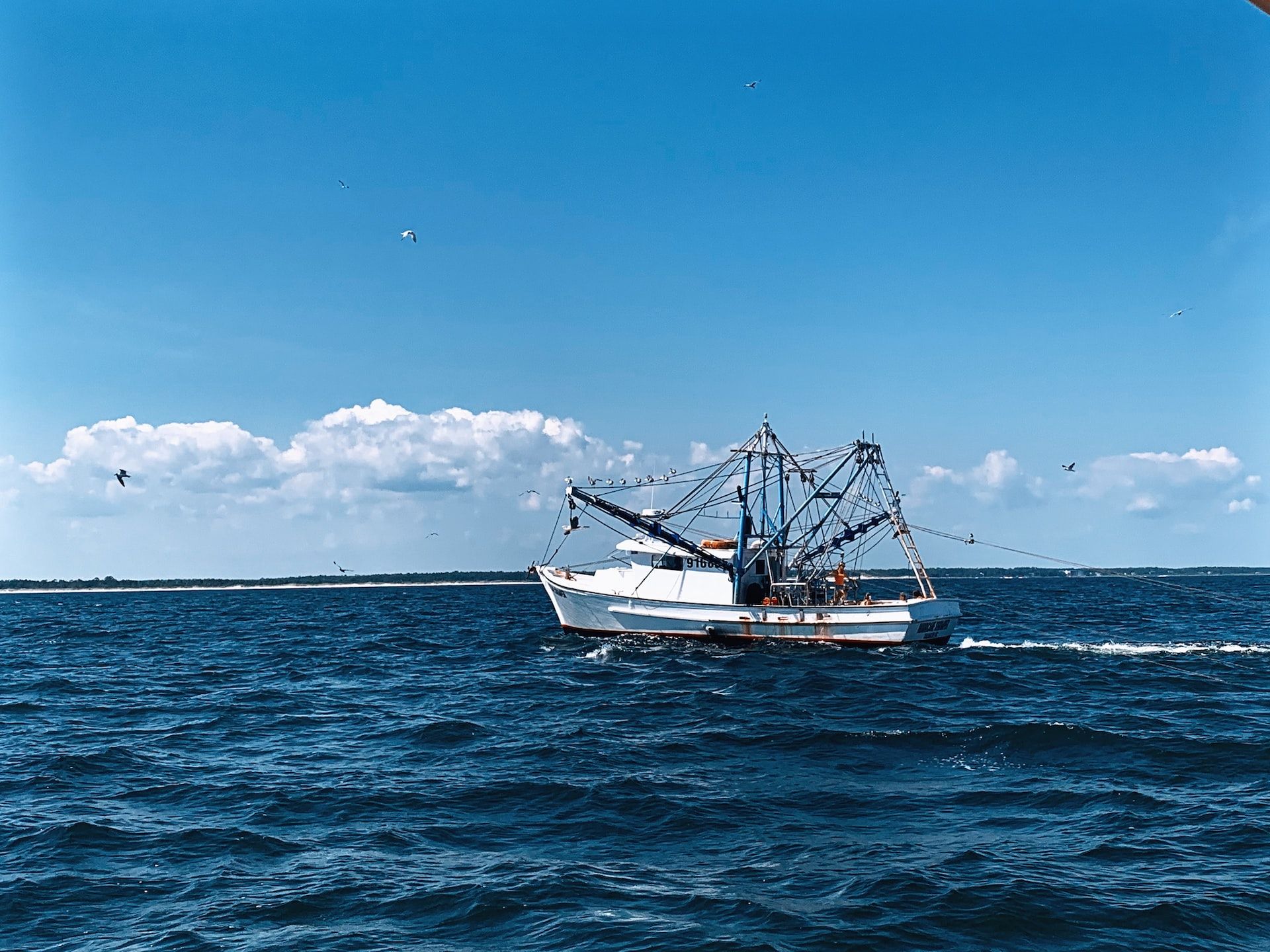 Fishing boat on the water off of Myrtle Beach.
Myrtle Beach has a plethora of restaurants and bars to choose from. From hidden hole-in-the-wall establishments to iconic and historic bars along the boardwalk, this area has it all.
The hard part isn't finding a place, it's choosing which one to sit down at.
Breakfast
Drift: High-end breakfast eatery with menu favorites like chicken and waffles and several egg benedict variations.
Donald's Pancake House: Affordable breakfast option with eclectic pancake house-style menu.
Mid-Day Meals
Abraham's Gyros: Amazing and cheap gyros and Mediterranean food. One of the best restaurants along the Myrtle Beach Boardwalk, and also one of the most affordable.
Simply Southern Smokehouse: Off the beaten path, offering delicious and reasonably priced southern BBQ. A must-have for those visiting from outside the Southern U.S. Great takeout option as well.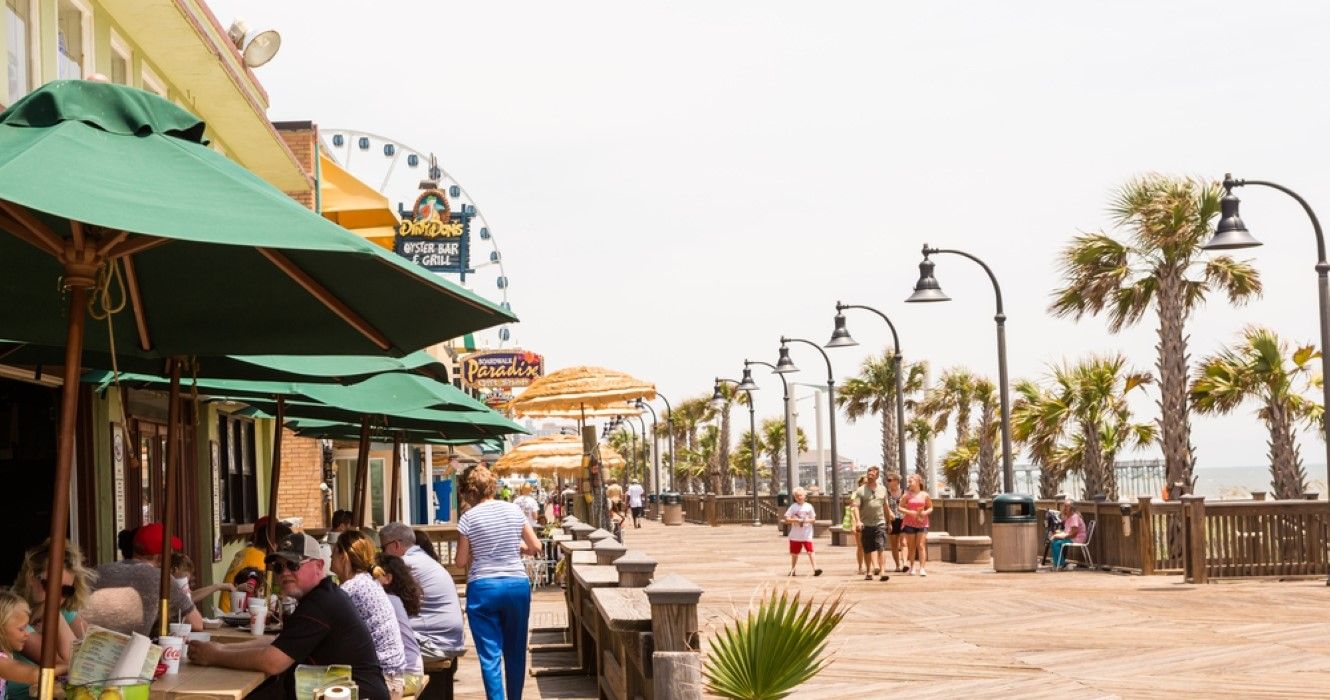 Boardwalk in Myrtle Beach, South Carolina
Dinner
The Melting Pot Restaurant of Myrtle Beach: High-end American contemporary restaurant. Great for date night. Pre-set several-course meal options available.
Hook & Barrel: Carefully designed and welcoming ambiance. American cuisine with ample seafood options and local fare.
Drinks
Hurricane's Daiquiri Bar & Grill: Great variety of frozen beverages steps away from the beach at Myrtle Beach. Colorful ambiance featuring live music and a full grill menu.
8th Ave. Tiki Bar & Grill: Laid back island-themed bar & grille with frozen cocktails, bar food, and patio seating
The Bowery: A Myrtle Beach iconic music venue and bar. Live music featured nightly at 8:30 and just steps away from the beach.
Top Things To Do In Myrtle Beach
Myrtle Beach, South Carolina
Spend A Day At The Beach
By far the top thing to do in Myrtle Beach is to visit the beach the area is named after. Myrtle Beach is a stunning, wide stretch of beach that visitors can easily access when staying at any of the oceanfront hotels or resorts.
Beachgoers are often found flying kites, engaging in a wide array of beach sports activities as well as cooling off in the Atlantic Ocean in some of the clearest waters in South Carolina in the hot summer months.
Best of all, Myrtle Beach is free to enjoy 365 days a year.
Walk The Myrtle Beach Boardwalk and Ride the SkyWheel
Myrtle Beach fishing pier Atlantic Ocean
Perhaps the most iconic top attraction in Myrtle Beach is its beach boardwalk and its imposing SkyWheel Ferris wheel.
The 1.4-mile boardwalk has bars, restaurants, arcades, and endless entertainment, and it is no wonder that the Myrtle Beach Boardwalk ranks among the most fun boardwalks in the United States.
The SkyWheel, at 187 feet in height, offers amazing views of the Atlantic Ocean and the surrounding beaches and is lit festively at night, making it the most noticeable structure in Myrtle Beach's skyline.
Catch Live Music At the Bowery Club
The Bowery Club is a renowned and historic live music venue just steps away from the beach itself in Myrtle Beach. The club features live music every night starting at 8:30 p.m.
Be sure to check the events calendar to see if any big names are coming to town, as The Bowery Club is known to host some of the biggest names in country music.
Regardless of whether the band is a big name or a small one, it is worth spending an evening at this live music institution.
Explore Under The Sea At Ripley's Aquarium
For some family fun and education, take a trip to Ripley's Aquarium. This is a great activity for those with families, as there are many educational and interactive exhibits in this aquarium. The aquarium features various tanks with aquatic life in its multi-level space and even has a penguin colony.
There are various add-on experiences available, including an up-close encounter with the penguins. The Ripley's Aquarium is open 365 days a year, and opens at 9 a.m. daily, making it a great escape from the heat, cold and inevitable rain.
How To Spend A Perfect Day In Myrtle Beach
Myrtle Beach South Carolina aerial view
Any perfect day in Myrtle Beach should involve a trip to the beach. But before venturing to the powdery sand, grab a bite at a local eatery, or maybe just a gyro to go from Abraham's Gyro. With food taken care of, grab some water, sunscreen, and a beach chair and bask in all of Myrtle Beach's glory.
When the sun and ocean have both served their purpose, it's cocktail time. Consider grabbing a frozen cocktail along the 1.4-mile boardwalk to cool down.
Next, if a wild night is in order, head over to The Bowery for some top-notch live music. For a more mellow evening, ride the SkyWheel at night. After all, it's something everyone who visits Myrtle Beach has to do at least once.
FAQ
Q: Can visitors walk on Myrtle Beach at Night?
Visitors can indeed walk along Myrtle Beach at night. Keep in mind that while the area along the boardwalk is policed frequently and well-lit, visitors should express caution while walking the beach in the dark. There is also a curfew for juvenile visitors under 18 between the hours of midnight and 6 a.m.
Q: What is not allowed on Myrtle Beach?
Alcoholic beverages as well as any glass containers of any kind are strictly prohibited at Myrtle Beach. Instead, you can enjoy alcoholic beverages at any of the great restaurants and bars on the Myrtle Beach boardwalk. It is also forbidden to walk on or otherwise disturb or damage the protected dune areas and natural habitats.
Q: What is Myrtle Beach famous for?
Myrtle Beach is famous for Myrtle Beach itself, as well as for being the hub of the 60 miles of beaches within the Grand Strand. It is also famous for its beachfront boardwalk and its SkyWheel Ferris wheel, which is one of the tallest in the United States, and top things to do in Myrtle Beach.