"They All Know Jimmy Single": NFL World In Splits After Viral Clip Reveals Jimmy Garoppolo Being 'Flocked' By Golden State Warriors Cheerleaders
The Niners quarterback Jimmy Garoppolo is one of the most in-demand personalities in America, and…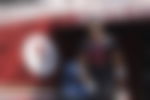 The Niners quarterback Jimmy Garoppolo is one of the most in-demand personalities in America, and this notion was evident during the NBA game between Golden State Warriors and San Antonio Spurs. A group of young cheerleaders specially greeted the QB but disregarded his other teammates on the sidelines. It became a wholesome moment for the fans online.
ADVERTISEMENT
Article continues below this ad
The Warriors dominated this week and registered a thumping 132-95 win against the Spurs. Steph Curry blazed across the court. But it was Garoppolo who became the talk of the night.
ADVERTISEMENT
Article continues below this ad
George Kittle, Kyle Juszczyk, and the newcomer, Christian McCaffrey, accompanied Jimmy G on the sidelines. That's when the unexpected moment took place. A group of Golden State Warriors dancing girls approached them and specifically greeted the quarterback with a casual 'Hello' and handshakes.
The cheerleaders only seemed interested in Garoppolo and disregarded his teammates sitting next to him. All the cameras were focused on the Niners squad, who are currently improving their season record for the No. 1 spot in the NFC West.
If things had turned out according to the plan, Garoppolo was not supposed to be wearing the 49ers jersey because he happened to be a trade bait this season. After spending five seasons with the team, the management was in search of a new landing spot for the veteran; however, they couldn't find one and placed him as a backup option.
DIVE DEEPER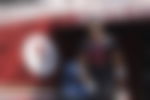 The starting quarterback, Trey Lance's unexpected ankle injury, turned the tables. Soon Garoppolo got elevated to his previous position. And guess what? He has performed fairly well this season with five wins and is eying to secure a top spot in the division. This attitude seems to have attracted the audience of the Bay area, especially the young female fans falling for him.
NFL world reacts to Jimmy Garoppolo getting special mention
Indeed, it was a wholesome moment for the fans to see Garoppolo in the spotlight. Even his teammates couldn't control their laughs watching Garoppolo's new fanbase.
Meanwhile, fans couldn't believe how they disregarded others next to him.
Damn they treated CMC like he was a random person

— Jerm (@IamJerm24) November 15, 2022
ADVERTISEMENT
Article continues below this ad
I mean it looked like they said hi to all of them lol

— Sean Allen (@SacTownKing44) November 15, 2022
ADVERTISEMENT
Article continues below this ad
Despite Lance's unavailability, and getting demoted, Garoppolo has stepped up and proved himself as a valuable asset to the franchise. It will be interesting to see if he can actually lead his team toward a playoff berth and eventually a Super Bowl.
Watch This Story: Tom Brady Invokes The Gladiator After Gigantic Win in Germany