Turkey Calls Made By Hunters, For Hunters | Outdoor Sports, Hunting and DIY Crafts
MILLVILLE, Pa. — For longtime hunters Scott Weiss and Charles Welliver, turkey calling is an art that can take years to master. And, according to both of them, you're never going to know it all.
Their call-making company, FeatherMoon Outdoors, specializes in friction calls and mouth calls for turkey hunting. They also create a grunt call and a bleat can call for deer.
While their friction calls are primarily wooden, the two entrepreneurs also sell a call named Double Trouble. It is hydro-dipped in a camouflage design by Josh Farr of Drop-Tine Custom Skull Dipping, also located in Millville.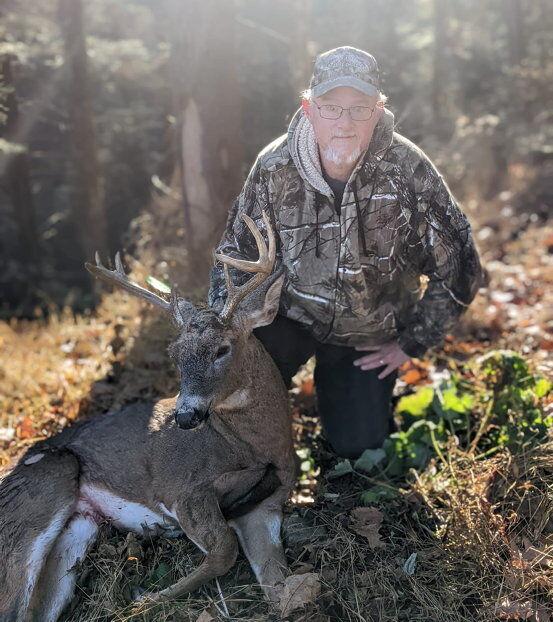 The friction calls feature pots made from select woods like walnut, cherry and curly maple. They are crafted in-house by hand, then tested, with a striker matched to each one.
They also offer custom pot calls with personalized pictures as the backdrop. According to Weiss and Welliver, these artistic calls can serve as a beautiful piece of memorabilia, featuring a child, grandchild or pet in the background, while being perfectly suited for hunting use. Welliver has a custom pot call decorated with a picture of his great-nephew and another with his great-niece.
"I've had people call and say they need two, one for their shelf and one for their turkey bag," Welliver said.
Welliver and Weiss met in 1989 through their place of employment at the time. They quickly discovered their mutual love of hunting and turkey calling, in particular.
Emphasis on Quality
The idea for the small business grew from a feeling of frustration from the lack of consistency in commercial calls.
Their business started with simple mouth calls. Once Weiss came on board, they added turkey friction calls with wooden pots, wooden crow and owl hooter calls, and grunt calls for deer.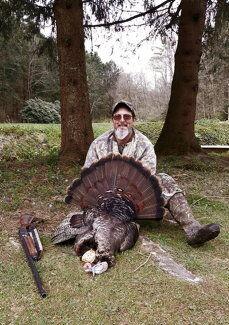 "When it comes to turkey hunting, I just love being in the woods in the early morning listening to the woods come alive," said Welliver, a lifetime hunter. "I enjoy calling in birds for other people to shoot, (even more so) than shooting them myself."
Weiss has hunted everything from squirrels to deer to turkeys. But he became fascinated by turkey calling in 1990, when he started making his own mouth calls. Then he progressed to slate and glass friction calls. When he started making calls, he says it was a lot of trial and error, because there wasn't a lot of information available. Now, with online websites and resources, he said it's a lot easier to get started.
Weiss said finding parts was a very secretive business at the time. He recalls going to a trade show in Harrisburg and talking to every call-maker there.
"I finally spoke to a woman who said that her brother supplies the whole country. And she gave me his number. I got up Monday morning and called the guy and told him what I wanted. He sold latex, frames (and all the parts that I needed). It was so secretive," recalled Weiss.
Weiss is an expert woodworker and takes his craft very seriously.
"The dedication is what makes us a little different, because if I'm not going to hunt with it, neither are you," he said.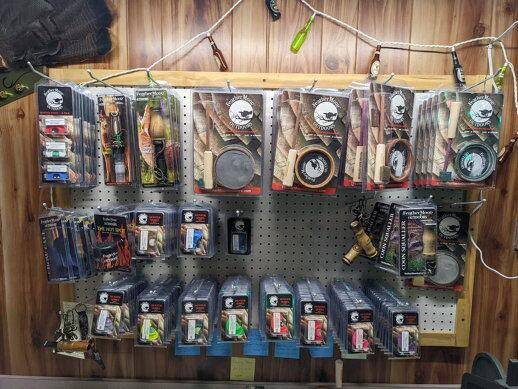 Welliver added, "I'll sit here and make a mouth call and if it has a wrinkle in it or I don't like it, it goes in the trash."
He continued, "You're not going to get everybody out there to like a certain call, because each person blows air differently. We try to make calls for the general public."
Weiss said, "There's so much that goes into a friction call. Each and every friction call is tested and matched to a striker."
Their business has grown primarily thanks to their robust Facebook presence, as well as by word of mouth from current customers. They also attend a few trade shows each year.
With many of the calls, the pair videotapes how to use the call and the sounds that it makes, then posts the tutorial video to Facebook. This has helped the business grow and creates customer loyalty and trust.
"I love when I get on Facebook and see a kid using our call — that's what we thrive on," said Welliver.
The two recently posted a "naming challenge" for a new call and had dozens of name suggestions.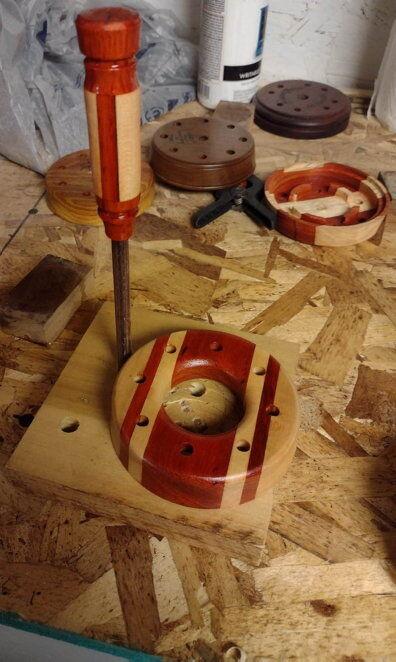 Their website features a gallery of customers who have killed turkey or deer using their calls. They are actively looking for more pictures this season to share online.
The Art of Calling
Hunting calls are a lot like musical instruments in that they take time and practice to master.
"Some people can pick it up quick, but if you have a bad gag reflex, it's more challenging. It took me two years before I could start making sounds," said Welliver.
Weiss continued, "If you think you know it all, you're not a turkey hunter. You're never going to know it all."
The pair say that turkeys are one of the most challenging animals to hunt.
Welliver said, "A turkey's eyesight is phenomenal. They can pick you out blinking at 100 feet, so if you're sitting in the woods (with a friction call), you're moving. They can pinpoint the sound and look right at you. Turkey hunting is never guaranteed."
Weiss continued, "If a turkey is 200 yards away, the moment he hears you, he knows exactly what tree you're sitting at. People say there's no way, but if you watch them, they will pinpoint where you're at and their eyes never leave you."
Weiss said he grew up with a love of hunting, both for small game and deer, then continued on to archery.
"When someone introduces you to spring gobbler hunting, it's two months of the year that I can spend out scouting and a month of hunting. The love of the outdoors and hunting is what drives people to get into this."
The Strategy of the Hunt
Weiss said that when hunters are calling for turkey, they are going against nature in several significant ways, making the sport extremely challenging.
"The gobbler's going to fly down out of the tree in the morning and go to a strut zone, and he's going to strut back and forth, and gobble. He's calling the hens to him. That's the way nature works. So when you set up and call a gobbler in using calls, in a sense you're reversing nature," Weiss said.
Welliver offered a few tips for beginners.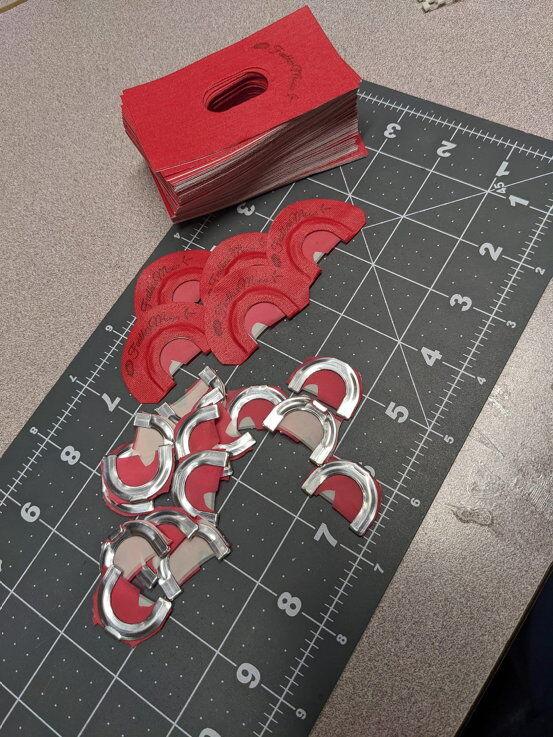 "I watched a gobbler and two hens. I watched one go one way and the other go another way and they both roosted. I got between the birds the next morning. He was gobbling on the roost and I heard the hens flying down to come to him. What I did was scare those hens away, I called that bird and killed him," Welliver said.
He continued, "If you're working a gobbler, you might start hearing hens yell. Nine times out of 10, you're calling that hen because she's coming to see what's going on, and he'll follow. And that's when people can kill them. (Gobblers) will send scouts out. He'll send one hen looking for you. While she's coming to you, the rest of the birds are going away from you."
"Every bird, every day is totally different. If you have one gobbler with seven or eight hens, to call that gobbler away from the hens is really hard to do. So if you hear a hen yelping, mimic her. It might make her mad and bring her toward you, and the rest of the flock will follow. Then that gobbler comes in," Welliver said.
In Pennsylvania, spring gobbler (bearded only) season runs from April 29 to May 30, with youth day on April 22. They may be hunted a half hour before sunrise until noon the first two weeks, then a half hour before sunrise to a half hour after sunset during the last two weeks. The daily limit is one and the season limit is two.
Timing is everything.
Welliver said, "In my personal opinion, if you don't kill a bird in the morning, wait until about 10 or 11 o'clock. When that gobbler hits the field, he calls his hens in. They go feeding and mating in the morning, then around 10 or 11 o'clock, the hens will leave the gobblers to lay in their nests. So that gobbler is alone now. Between 10 and 12, it can be a good time, because he's out looking for a hen."
FeatherMoon Outdoors' mouth calls sell for $8 online and the friction calls are $30-$75 online, depending on the material or wood chosen.
Their calls are also available at several stores in Pennsylvania, including Gumpy's Creekside Cabin in Millville, Hickory Creek Archery and Sporting Goods in East Hickory, Nature's Outdoors in Dallas, and Heritage Baits and Lures in Bloomsburg.
For more information, search on Facebook or go to FeatherMoonOutdoors.com.