Wild celebration as Bulldogs nab national water polo title | Sports
The University of Redlands men's water polo team was jubilant after winning the Division III…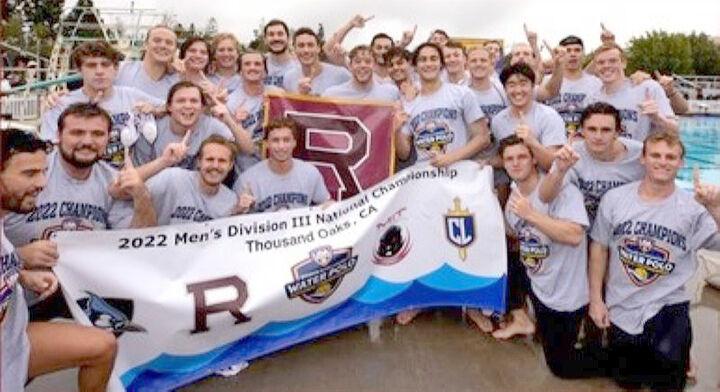 It's uncertain if a lifeguard was on duty, but by the end of the game there were a lot of people in the swimming pool at Thousand Oaks' Samuelson Aquatics Center.
Those in the drink included the University of Redlands men's water polo team, the Bulldog coaches, and even university President Krista Newkirk. They all celebrated an 11-6 victory against Cal Lutheran University that gave Redlands its first the USA Water Polo Division III national championship.
The game was played Sunday, Dec. 4.
In winning, the No. 3 seed Bulldogs knocked off the tournament's No. 1 seed. It was also Redlands' first victory of the season against Cal Lutheran after three losses.
To get to the Division III championship tournament, Redlands needed to excel in the Southern California Intercollegiate Athletic Conference tournament. The No. 5 seeded Bulldogs defeated No. 4 seed Claremont-Mudd-Scripps and top-seeded Pomona-Pitzer to clinch a berth in the Division III tournament. Redlands fell to Cal Lutheran 8-5 in the SCIAC title match.
The Bulldogs opened the Division III tournament with an 18-6 win against Johns Hopkins. Drake Moody scored six goals and Liam Murphy collected 12 saves. That put them in the title match against Cal Lutheran, a team that defeated Redlands 9-7 and 11-9 during the regular season.
The title game was tied 3-3 after eight minutes, with Alec Abrahamian scoring twice for Redlands and Spencer Clinton notching the other goal.
Cal Lutheran (17-15) seized a 5-3 lead in the second quarter, but the Bulldogs finished the half with a flourish with goals by Clinton and Eamon Greathouse to tie the game 5-5.
Goals by Greathouse and Moody put Redlands ahead 7-5. Another goal by Greathouse — his third — increased the Bulldogs' lead to 8-5.
Then with 22 seconds left in the third quarter, Andrew Higginson scored on a penalty shot to give Redlands a four-goal lead.
Higginson's goal at the 6:29 mark of the fourth quarter increased Redlands' lead to 10-5.
Cal Lutheran scored to trim the Bulldogs' lead to four, but Moody tallied on a power play with 2:53 left that clinched the win.
Murphy had 18 saves for Redlands.
Besides Greathouse's three goals, Abrahamian, Higginson, Moody, and Clinton all had two goals. Higginson contributed four assists and Ron Gvishi and Moody had two assists each.
Redlands became the third consecutive SCIAC team to prevail since USA Water Polo started the Division III national tourney.
Murphy was named the Division III All-Tournament Most Valuable Player and his Bulldog teammates Higginson and Moody made the all-tournament team.
The Bulldogs are coached by Ryan Hall, who succeeded Tom Whittemore in March of 2020.
Redlands was outshot 36-26 but made 42% of its shots to 17% for Cal Lutheran.