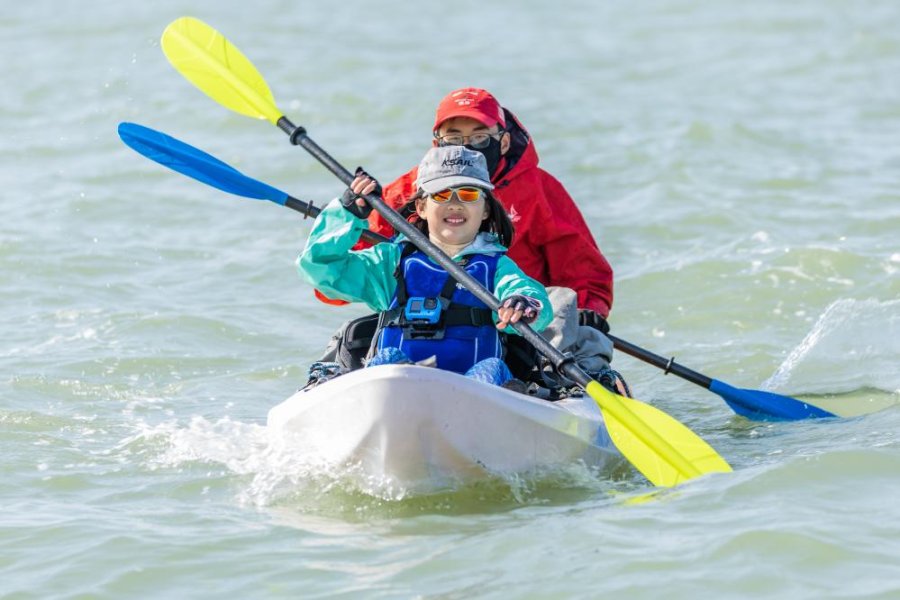 February 6, 2023
BEIJING – The "Just Like A Happy Duckling" Crossing the Qiongzhou Strait Challenge competition successfully concluded in Haikou, Hainan province on Sunday, Feb 5. Pairs competitors Yang Jixin and Bao Naixuan as well as Xia Haolun and Chen Xinran successfully sailed across the Qiongzhou Strait using a platform boat and a sailboat respectively.
The Qiongzhou Strait, one of the three main straits in China, is a big attraction for water sports enthusiasts from all over the country. The strait has a narrow surface and rapid currents, and the turbulence generated by large and medium-sized vessels can cause major disruptions.
Bao Naixuan, a 17-year-old sailor, is a high school student from Qingdao. Bao has been taking part in water sports since childhood. At the age of 14, Bao independently piloted the OP sailboat through Bohai Bay in 3 days, setting the longest OP sailing distance record for this age group.
By 2019, Bao was a fearless young sailor. This time he had extra responsibilities, as his partner was 10-year-old Yang Jixin from Shanghai. Along with her dedication to academics, she has trained in sports such as tennis since she was very young, and been in kayaking and sailing training for over a year. Whether she is fighting the wind and waves on the sea or standing on the podium, she always has a warm, sunny smile on her face.
Yang and Bao worked together on their vessel. The two young kayakers know at sea, the environment can change at any time. They faced not only technical and physical challenges, but also enormous psychological stress. To help overcome these difficulties, the two went to Haikou for training one month in advance.
On the day they crossed the Qiongzhou Strait, the wind force was light, the wind direction was northeast and the maximum speed of the ocean current was 1.3 knots per hour (2.4 kilometers per hour) from east to west. Starting from the tail corner of Xuwen county in Guangdong province, they overcame the long distance and stormy waves, demonstrating almost perfect technique and an indestructible team spirit. In the end, it took Yang and Bao 4 hours 20 minutes and 25 seconds to successfully kayak across the strait and arrive at the designated landing place of Xixiu Beach, where the Haikou National Sailing and Windsurfing Training Base is located.
It should be noted this was the first time kayakers used a platform boat, the slowest type of kayak, to cross the strait. Yang also became the youngest person to cross.
The "Just Like A Happy Duckling" Crossing the Qiongzhou Strait Challenge is sponsored by Zhenhai (Beijing) Network Technology Co Ltd, organized by the Haikou City Canoeing Association, Sichuan Sailing Surfing and Paddleboarding Association, Rizhao Sailing and Windsurfing Association, Qingdao Rowing and Kayaking Association, Nanjing Sailing and Windsurfing Association, and Lianyungang Sailing Association. The challenge is held once a year and organizers hope it will become the largest private sailing event in China.